Venerdì 31 Maggio a Gioia Del Colle presso l'aeroporto militare "Antonio Ramirez", in occasione del 75° Anniversario della costituzione del 36° Stormo, si è svolto il raduno degli ex appartenenti allo storico Reparto pugliese.
La cerimonia, che ha potuto contare sulla vasta partecipazione di personale sia in congedo che in servizio, è stata presieduta dal Capo di Stato Maggiore dell'Aeronautica Militare, Generale Squadra Aerea Pasquale Preziosa, che dopo aver trascorso una lunga parte della propria esperienza operativa presso il 36° Stormo, ne ha avuto il comando nel periodo 1994-1996.
Nel proprio intervento, il Capo di SMA ha ricordato tutti coloro che per lo Stormo hanno sacrificato la vita procedendo quindi alla deposizione di una corona d'alloro presso il monumento loro dedicato. Il Generale Preziosa ha inoltre sottolineato come il legame indissolubile che unisce la Base al territorio si sia cementato da quando, nel 1966, il 36° è arrivato a Gioia del Colle. "Sono contento – ha concluso il Generale Preziosa – sono molto emozionato, sono anch'io un radunista oggi e, mentre effettuavo la rassegna, ho incrociato parecchi occhi, gli occhi dell'emozione che ci han visti insieme per costruire qualcosa per il nostro Paese".Durante la cerimonia, l'ingegner Maurizio De Mitri, rappresentante di Alenia Aermacchi nonché del consorzio Eurofighter, ha consegnato al Comandante del 36° Stormo, Colonnello Vito Cracas, la "Sciabola Eurofighter" per il X Gruppo Caccia, in segno di apprezzamento per il servizio svolto a tutela della sicurezza dello spazio aereo assegnato.
Successivamente è stato quindi presentato il libro "36° L'invincibile Stormo – 75 anni di storia", realizzato dal 1° M.llo Giovanni Palantra in forza al GEA di Stormo, che ripercorre la storia di uno dei Reparti più decorati dell'Aeronautica Militare. Al raduno era anche presente il nipote della MOVM Helmuth Seidl, epico Comandante del 36° Stormo caduto in azione di guerra durante il secondo conflitto mondiale, cui lo Stormo è intitolato.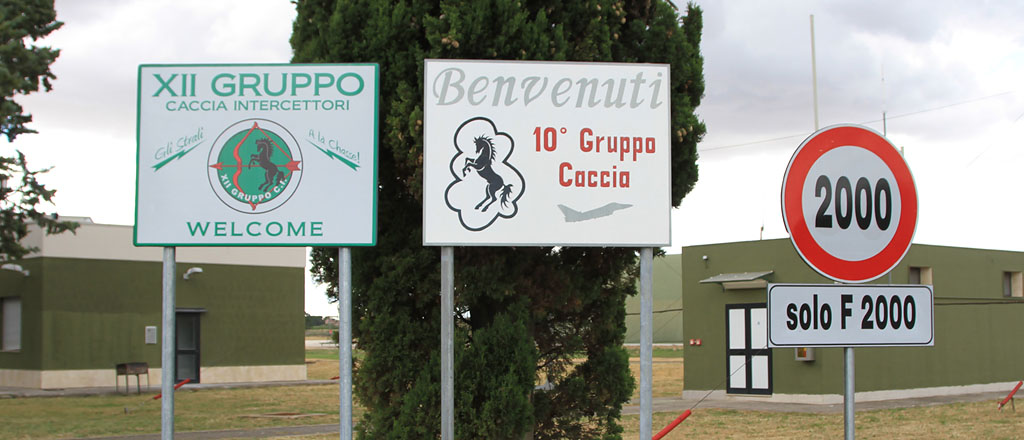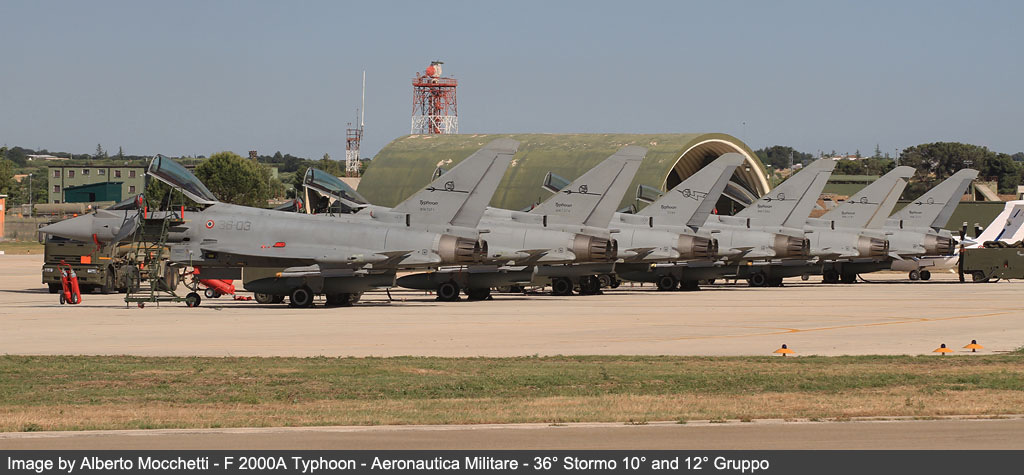 L'autore desidera ringraziare il Col. Cracas, il Magg. Napoli, il 1° M.llo Palantra e il 1° Aviere Scelto Rubino
Foto di Alberto Mocchetti
Testo di Giuliano Ranieri e Raffaele Fusilli (cortesia seairlandshots.com)
Maggio 2013
English translation by Frank McMeiken
On Friday 31 May at the "Antonio Ramirez" military airfield at Gioia del Colle, on the occasion of the 75th Anniversary of the constitution of the 36° Stormo, a reunion was held for the former members of the historic Puglian based Stormo.
The ceremony, which was attended by a vast number of both serving and retired personnel, was led by the Chief of Staff of the Aeronautica Militare, Generale Squadra Aerea Pasquale Preziosa, who gained a great deal of his operational experience with the 36° Stormo, and of which he was the commander between 1994 and 1996.
In his address, the Capo di SMA remembered all those who had sacrified their lives in service with the Stormo, and then laid a wreath at the monument erected in their name. Generale Preziosa went on to underline the undisolvable links which unit the base to the local area, already firmly established from the time when, in 1966, the 36° had arrived at Gioia del Colle. "I am happy – concluded Generale Preziosa – and very emotional, as today I am also a veteran, and while I passed in review, I met many eyes, eyes full of the emotions that we have gone through together in constructing this vital asset for our nation". During the ceremony, ingegnere Maurizio De Mitri, representing both Alenia Aermacchi and the Eurofighter Consortium, presented the Comandante of the 36° Stormo, Colonnello Vito Cracas, the "Eurofighter Sabre", awarded to the X Gruppo Caccia as a sign of appreciation for the service it performs in safeguarding its assigned sector of airspace.
Subsequently, the book "36° L'invincibile Stormo – 75 anni di storia", was presented to the public, the work of 1° M.llo Giovanni Palantra who is serving with the GEA of the Stormo, which describes the history of one of the most decorated units of the Aeronautica Militare. Also present at the reunion was the grandchild of MOVM Helmuth Seidl, the epic Comandante of the 36° Stormo who lost his life in action during the Second World War, and in whose honour the Stormo is named.
The author would like to thanks the Col. Cracas, Maj. Napoli, Warrant Officer Palantra and First Airman Rubino
Images by Alberto Mocchetti
Text by Giuliano Ranieri and Raffaele Fusilli (Seairlandshots.com courtesy)
May 2013