L'esercitazione Sentry Gold ha visto schierati 10 F 15C del 493rd Fighter Squadron "Grim Reapers"del 48th Fighter Wing di Lakenheath, Suffolk sulla Base Aerea 3 di Graf Ignatievo, in Bulgaria. Grazie al Colonnello Antonio Trogu, Addetto alla Difesa presso l'Ambasciata d'Italia a Sofia abbiamo potuto visitare questo aeroporto situato poche decine di chilometri a nord di Plodvid, la seconda città della Bulgaria. La Base Aerea 3 della Bulgarski Voenno Vzdushni Sili vede basati i Mig 21bis ed i Mig 29 del 2 Gruppo Caccia che si alternano nel ruolo di difesa aerea. Il giorno della nostra visita erano due Mig 21bis armati di missili R60M Aphid ad occupare le postazioni QRA (Quick Reaction Alert). Dall'entrata della Bulgaria nella NATO che risale al 2004 la difesa aerea dei cieli del paese è compito dell'Integrated Air Defence System con comando a Larissa (Grecia). Decolli ed atterraggi di F 15 e Mig si sono susseguiti per tutto il giorno. Da interviste strappate sulla linea di volo ad alcuni piloti "Grim Reapers" ed al Comandante di Gruppo dei Mig Col. Paris Petrov sono emerse alcune considerazioni. Il Mig 29 rappresentava per gli americani un avversario conosciuto perché già affrontato in ambito NATO, ma molti piloti si sono trovati a fronteggiare per la prima volta il Mig 21, che, anche se decisamente inferiore, si rivela sempre un avversario insolito, per la piccola immagine radar e per l'abitudine dei piloti bulgari a volare a quote estremamente basse, praticata nelle numerose aree disabitate del paese. Graf Ignatievo vedrà sempre più frequentemente schierati velivoli dell'USAF per esercitazioni nell'ottica di un progressivo spostamento della presenza statunitense in Europa verso sud-est. A questo scopo sono state individuate sette basi aeree nei paesi dell'ex Patto di Varsavia ed in Bulgaria pare sia stata scelta la base a nord di Plodvid.
Approfittando della nostra presenza in Bulgaria abbiamo anche potuto fare il punto della situazione sulla locale Forza Aerea visitando le basi aeree di:
Krumovo
Interessata non direttamente, ma per i compiti CSAR (Combat Search and Rescue) dall'esercitazione Sentry Gold, è stata la Base Aerea Elicotteri 24 di Krumovo anch'essa nei dintorni di Plodvid. Occupa una parte dell'aeroporto civile della città bulgara. Alterna istallazioni che risalgono alla occupazione tedesca della Seconda guerra mondiale a moderni hangar con monitoraggio ambientale. Nel 2005 il governo della Bulgaria firmò con Eurocopter un contratto del valore di oltre 300 milioni di euro per la fornitura di 12 AS532UL/AL "Cougar" e di sei AS565MB "Panther". Contemporaneamente venne firmato un accordo con la Israeli Elbit per l'aggiornamento allo standard NATO di 12 Mil Mi 24 e sei Mil Mi 17. Si creava così la dotazione del 2 Gruppo Elicotteri che sfoggia l'impegnativo motto "Sempre Dovunque". La realtà si è poi dimostrata meno rosea dato che solo 11 AS532 sono stati consegnati, la commessa dei "Panther" è stata momentaneamente accantonata ed il contratto con la Elbit è saltato, tutto per sopravvenuti gravi problemi economici. Allo stato attuale al 2 Gruppo Elicotteri ci sono otto elicotteri "Cougar", con i codici da 701 a 708 della versione UL con compiti di trasporto (fino a 29 soldati) e MEDEVAC (MEDical EVACuation) e tre della versione AL in configurazione CSAR, con protezione della cabina in Keflar, RWR (Radar Warning Receiver) e FLIR (Forward Looking Infrared). In particolare l'acquisizione della visione notturna tramite gli NVG (Night Vision Googles) richiesta al reparto dalle periodiche valutazioni NATO, è stata difficile dal momento che né i Mi 24 né i Mi 17 erano predisposti per il FLIR e si dovette attendere la consegna del primo Cougar nel 2006 per iniziare l'addestramento. Da ricordare che la versione AL può essere armata con AK da 7,62. A Krumovo viene eseguita la revisione delle 50 e 100 ore, mentre le 500 vengono eseguite presso le officine di Terem a Graf Ignatievo. La linea del Mil Mi 24 appare allo stato attuale in grave sofferenza con solo due velivoli ancora volanti ma prossimi alla fine della vita operativa e sempre in attesa di un upgrade. Sempre in linea invece i Mil 17 che neanche le difficoltà economiche riescono a fiaccare. Presente anche l'AB 206B3 impiegato nella ricognizione e presso lo OUA, l'unità addestrativa del reparto. Da notare che per le esigenze operative il reparto può utilizzare anche la base elicotteristica "storica"di Stara Zagora distante appena 20 km e chiusa da tempo.
BEZMER
La Base Aerea 22 di Bezmer la più a est dista poche decine di km dal Mar Nero ed ospita i superstiti degli oltre 40 Su 25K e UKB ricevuti dalla Bulgaria alla fine degli anni 80 raggruppati in un gruppo di volo da attacco. Le infrastrutture della base sono decisamente obsolete per i ricoveri dei velivoli e la pavimentazione con lastre di cemento. Questo particolare aspetto la rende inagibile per i più sofisticati velivoli NATO. L'unico velivolo che può utilizzare senza problemi la sua pista di 2.500 metri è l'A 10C Thunderbolt II . Lo scorso anno gli A 10C dell'81st Fighter Squadron del 52nd Fighter Wing di Spangdahlem si sono qui rischierati per partecipare all'esercitazione REUNION APRIL con temi CSAR (Combat Search and Rescue) e CAS (Close Air Support). Da notare che esposti impietosamente da sei anni alle intemperie a Bezmer ci sono gli ultimi SU 22M dell'Aviazione bulgara che fino al 2004 costituivano la dotazione di un gruppo di volo e la caratteristica distintiva della base che infatti è identificata con il N.22.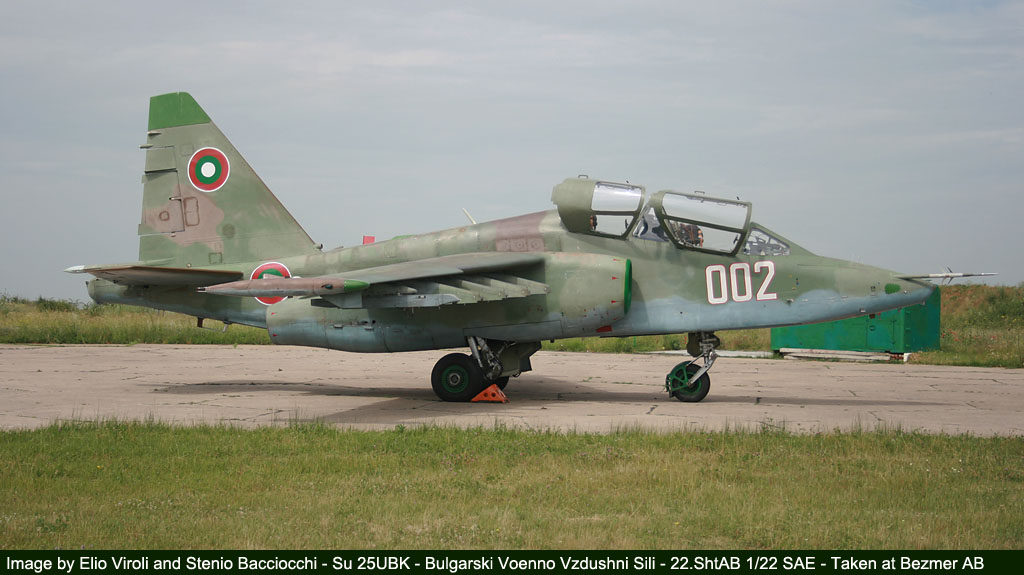 SOFIA VRAZHDEBNA
La base del gruppo trasporti, per la precisione la 16, è ospitata dalla parte opposta dell'aeroporto internazionale di Sofia. Una visita qui richiede oltre la autorizzazione delle autorità militari anche quella dell'aviazione civile. Sono le autorità civili infatti a rilasciare il permesso definitivo dopo visione diretta dei documenti ed ispezione personale dei visitatori. Accanto a numerosi velivoli già radiati come gli An 24 o la versione con elica tripala del LET 410, c'è la dotazione attuale del reparto con un sorprendente AN 2 in perfetta efficienza ed ancora ideale per i primi lanci dei parà, alcuni LET 410UTP E con elica a cinque pale, un Pilatus Pc 12 per trasporto VIP e due C 27J consegnati alla fine del 2007 per sostituire gli An 26. E' doveroso ricordare che la Bulgaria ha partecipato a KFOR, SFOR, EUFOR e con 500 uomini ed è ora in Afghanistan con la missione ISAF, con prevedibile diretto impegno della componente da trasporto. E' presente anche un AN 30 che partecipa ai periodici controlli previsti dall'accordo "Open Skies". Ancora da completare il moderno hangar costruito dall'Alenia.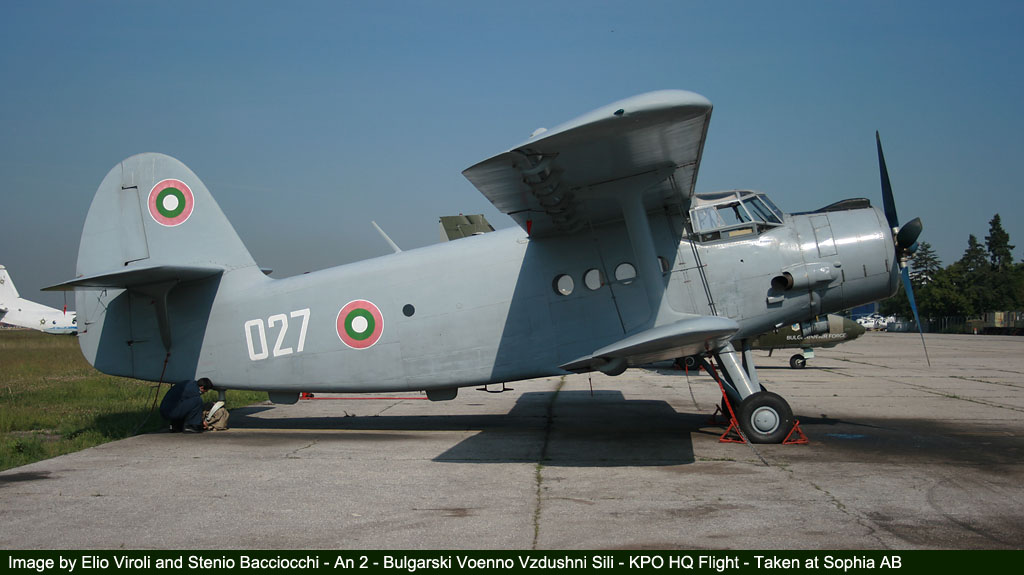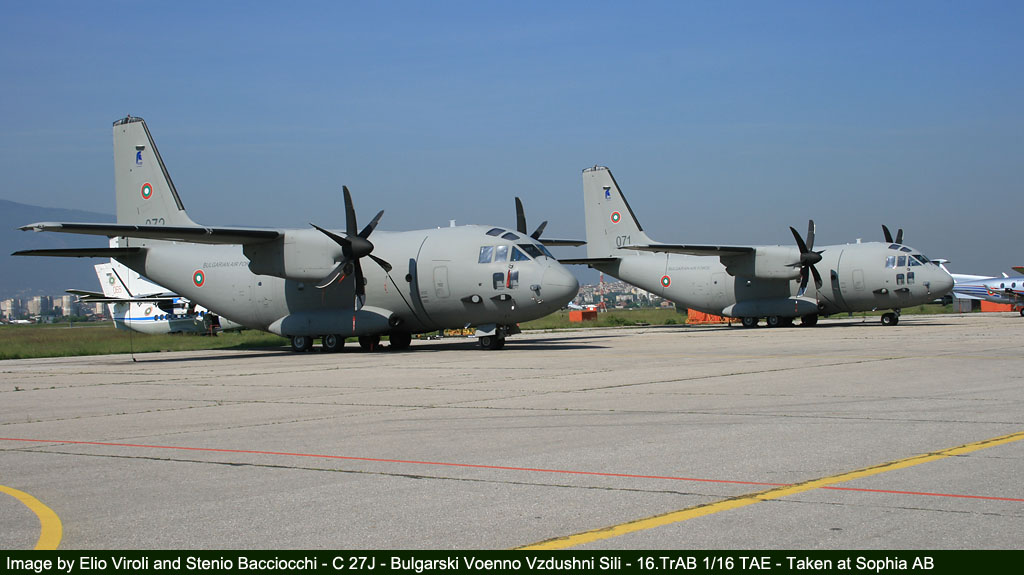 Una visita alla base aerea di Dolna Mitropolija sede del reparto di addestramento con L 39 e Pilatus PC 9 ci viene sconsigliata per la momentanea sospensione dell'attività di volo.
Un discorso finale sull'Aviazione della Bulgaria non può prescindere dalla considerazione che una Forza Aerea che alla fine degli anni 80 poteva enumerare 15 basi aeree con oltre 400 velivoli ed un personale di 300.000 unità ora è ridotta a cinque basi, con 100 velivoli ad essere ottimisti e solo 30.000 addetti. Sono gli inevitabili aspetti della fine della Guerra Fredda, che ha cambiato completamente gli scenari operativi ed ha reso possibile eventi un tempo inimmaginabili come l'esercitazione Sentry Gold.
Gli autori desiderano ringraziare il Col. Antonio Trogu, Addetto Militare presso l'Ambasciata italiana a Sofia
Foto e testo di Elio Viroli e Stenio Bacciocchi
Luglio 2010
English translation
The Sentry Gold exercise saw the 493rd10 F 15CFighter Squadron "Grim Reapers" deployed from the 48th Fighter Wing in Lakenheath, Suffolk on Graf Ignatievo Air Base 3, Bulgaria. Thanks to Colonel Antonio Trogu, Defense Attaché at the Embassy of Italy in Sofia we were able to visit this airport located a few dozen kilometers north of Plodvid, the second largest city in Bulgaria. Bulgarski Voenno Vzdushni Sili Air Base 3 is based on the Mig 21bis and Mig 29 of the 2nd Fighter Squadron that alternate in the role of air defense. On the day of our visit, two Mig 21bis armed with R60M Aphid missiles occupied QRA (Quick Reaction Alert) positions. Since Bulgaria's entry into NATO, which dates back to 2004, air defence of the country's skies has been the responsibility of the Integrated Air Defence System with command in Larissa (Greece). Takeoffs and landings of F 15 and Mig have followed each other throughout the day. From interviews torn on the flight line to some pilots "Grim Reapers" and to the Commander of Squadron of the Mig Col. Paris Petrov some considerations have emerged. The Mig 29 represented for the Americans an opponent known because already faced in NATO, but many pilots were faced for the first time the Mig 21, which, although decidedly inferior, always proves to be an unusual opponent, for the small radar image and the habit of Bulgarian pilots to fly at extremely low altitudes, practiced in the numerous uninhabited areas of the country. Graf Ignatievo will see more and more frequently deployed USAF aircraft for exercises in view of a progressive shift of the US presence in Europe to the southeast. For this purpose, seven air bases have been identified in the countries of the former Warsaw Pact and in Bulgaria it seems that the base north of Plodvid has been chosen.
Taking advantage of our presence in Bulgaria we were also able to take stock of the situation on the local Air Force visiting the air bases of:
Krumovo
Interested not directly, but for the CSAR (Combat Search and Rescue) tasks from the Sentry Gold exercise, it was the Krumovo 24 Helicopter Air Base also in the surroundings of Plodvid. It occupies a part of the civil airport of the Bulgarian city. It alternates installations dating back to the German occupation of World War II with modern hangars with environmental monitoring. In 2005 the government of Bulgaria signed a contract with Eurocopter worth over 300 million euros for the supply of 12 AS532UL/AL "Cougar" and six AS565MB "Panther". At thela Israeli Elbit same time, an agreement was signed withla Elbit 12 Mil Mi 24 and six Mil Mi 17 to upgrade to the NATO standard. This created the equipment of the 2 Helicopter Squadron that sports the challenging motto "Always Everywhere". The reality has then proved less rosy since only 11701 a AS532 have been delivered, the order of the "Panther"20 km has been momentarily shelved and the contract with has skipped, all for unexpected serious economic problems. At present at 2 Helicopter Group there are eight "Cougar" helicopters, with 708 codes of the UL version with transport tasks (up to 29 soldiers) and MEDEVAC (Medical Evacuation) and three of the AL version in CSAR configuration, with cabin protection in Keflar, RWR (Radar Warning Receiver) and FLIR (Forward Looking Infrared). In particular, the acquisition of night vision through the NVG (Night Vision Googles) requested to the unit by the periodic NATO evaluations, It was difficult since neither the Mi 24 nor the Mi 17 were prepared for the FLIR and it was necessary to wait for the delivery of the first Cougar in 2006 to begin training. Remember that the AL version can be armed with 7.62 AK. In Krumovo the 50 and 100 hour review is carried out, while the 500 hours are performed at the workshops of Terem in Graf Ignatievo. The line of the Mil Mi 24 appears at present in severe distress with only two aircraft still flying but close to the end of operational life and always waiting for an upgrade. Always on the other hand, the MIL 17 that not even the economic difficulties can fail. Also present is the AB 206B3 used in reconnaissance and at the OUA, the training unit of the unit. Note that for operational needs the unit can also use the "historical" helicopter base of Stara Zagora just and closed for a long time.
BEZMER
Bezmer Air Base 22, the easternmost, is a few dozen kilometers from the Black Sea and is home to survivors of over 40 Su 25K and UKB received from Bulgaria in the late 1980s grouped into an attack flying group. The infrastructure of the base is definitely obsolete for aircraft shelters and flooring with concrete slabs. This particular aspect makes it condemned for the more sophisticated NATO aircraft. The only aircraft that can safely operate its runway is the2.500 metri A 10C Thunderbolt II. Last year the A's of10C the 81st Fighter Squadron of the 52nd Fighter Wing of Spangdahlem were here to participate in the exercise REUNION APRIL with CSAR (Combat Search and Rescue) and CAS (Close Air Support) themes. It should be noted that the last SU 22M of the Bulgarian Air Force, which until 2004 constituted the endowment of a flying group and the distinctive feature of the base that is identified with the N.22, have been exposed to the weather in Bezmer for six years.
SOFIA VRAZHDEBNA
The base of the transport Squadron 16 to be precise, is located on the opposite side of Sofia International Airport. A visit here requires beyond the authorization of the military authorities also that of civil aviation. In fact, it is the civil authorities that issue the final permit after direct inspection of the documents and personal inspection of the visitors. In addition to numerous already-disbanded aircraft such as the An 24 or the version with a tripala propeller of the LET2 in 410, there isla Bulgaria the current equipment of the unit with an amazing perfect efficiency and still ideal for the first launches of the paratrooper, some LET 410UTP E with five-bladed propeller, a Pilatus Pc 12 for VIP transport and two C 27J delivered at the end of 2007 to replace the An 26. It is worth remembering that he participated in KFOR, SFOR, EUFOR and 500 men and is now in Afghanistan with the ISAF mission, with predictable direct commitment of the transport component. There is also an AN 30 that participates in the periodic checks provided by the "Open Skies" agreement. The modern hangar built by Alenia is still to be completed.
A visit to the air base of Dolna Mitropolija home of the training unit with L 39 and Pilatus PC 9 is not recommended for the temporary suspension of flying activity.
A final speech on the Air Force of Bulgaria cannot disregard the consideration that an Air Force that at the end of the 80s could enumerate 15 air bases with over 400 aircraft and a staff of 300,000 units is now reduced to five bases, with 100 aircraft to be optimistic and only 30,000 employees. They are the inevitable aspects of the end of the Cold War, which has completely changed the operating scenarios and made possible events once unimaginable as the Sentry Gold exercise.
The authors would like to thank the Col. Antonio Trogu, Military attached at the italian Embassy at Sofia
Images and text by Elio Viroli and Stenio Bacciocchi
July 2010