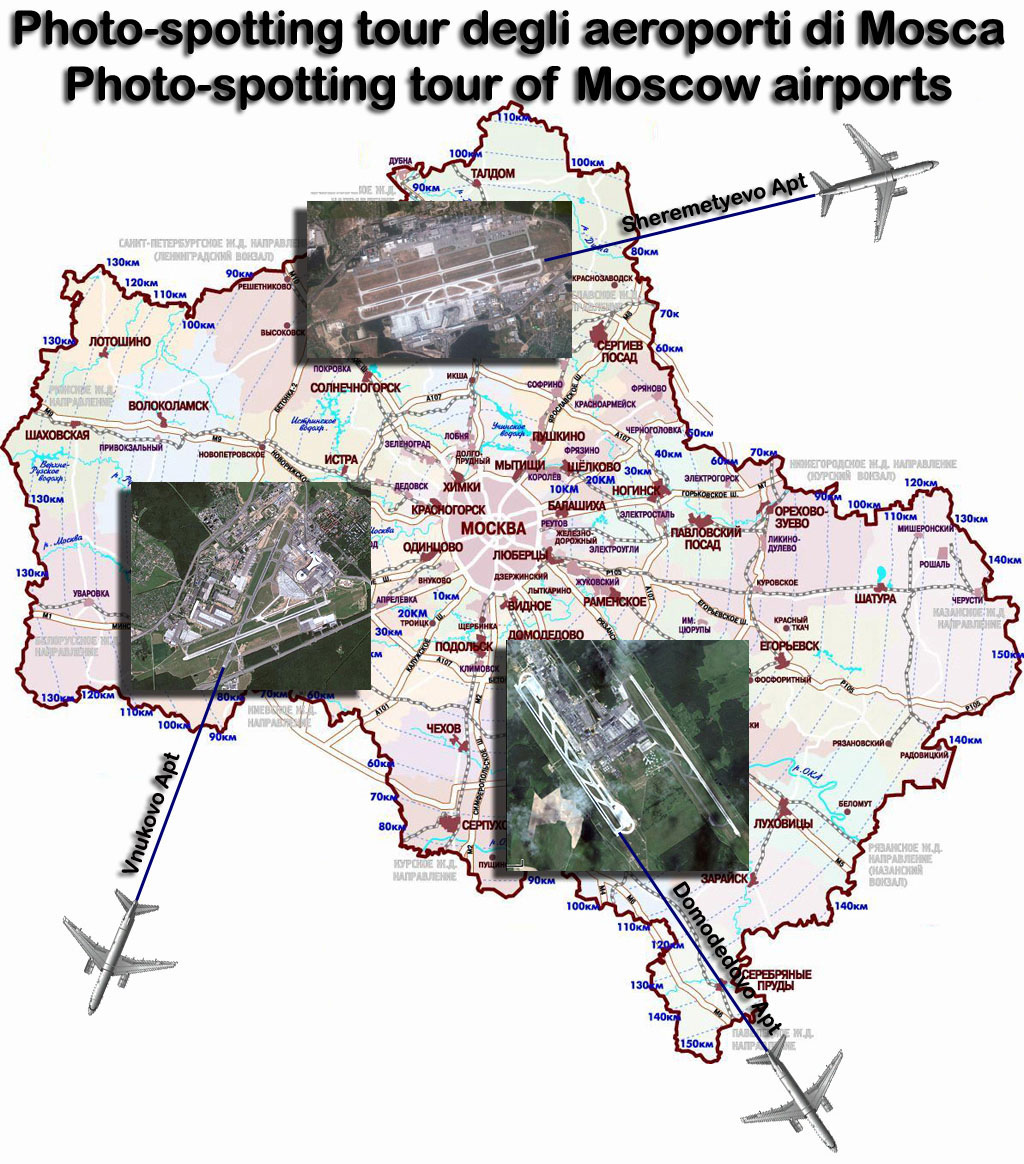 Era uno dei tanti sogni nel cassetto e finalmente l'estate scorsa quel cassetto l'ho finalmente aperto.
L'occasione è stata la decisione di visitare il MAKS (salone dell'aeronautica russo già illustrato in un report dedicato).
Ma essendo io appassionato soprattutto di aviazione civile la voglia di vedere cosa succede negli aeroporti russi era tanta.
Purtroppo sono arrivato un po' tardi perché ormai la globalizzazione è arrivata anche qui e Boeing ed Airbus la fanno da padrone lasciando sempre meno spazio ai prodotti locali tanto affascinanti quanto ormai assai difficili da vedere sulle piste di casa nostra.
Per la logistica del viaggio, contrariamente alle mie abitudini, ho deciso di andare in gruppo affidandomi all'organizzazione di un tour operator inglese specializzato in spotting trips che tuttavia si appoggia ad Olga, una energica e risoluta guida locale che da diversi anni ha smesso di accompagnare turisti al Cremlino dedicandosi invece ad organizzare visite per gruppi di spotters provenienti da tutto il mondo.
Grazie ai suoi contatti è stato così possibile avere un accesso privilegiato alle rampe degli aeroporti moscoviti senza paura di essere arrestati dal KGB e finire alla Lubjanka.
Benché non mi possa lamentare dell'organizzazione delle visite debbo dire che, se ci sarà una prossima volta, a Mosca ci andrò da solo perché con grande piacere ho notato che mettersi in testata pista a fotografare aerei è un'attività non solo tollerata dalle autorità ma addirittura coltivata da appassionati locali che nelle belle giornate estive passano ore insieme alle famiglie osservando il via vai dei jets come accade attorno ad ogni aeroporto del mondo occidentale.
Un'altra piacevole sorpresa l'ho avuta dal clima, un solo giorno di brutto tempo su otto passati in territorio sovietico, con temperature veramente estive e cieli tersi.
L'unica difficoltà nell'organizzazione di un viaggio fai da te rimane quella legata alla lingua (poiché sono pochi a masticare un inglese decente) ed all'interpretazione delle scritte in cirillico che ovviamente necessita sempre di uno sforzo extra alle meningi.
E poi bisogna mettere in conto non tanto le difficoltà di spostamento quanto i tempi necessari che richiedono lunghi tragitti in treni e metropolitane sempre affollatissime. Oggigiorno è anche possibile noleggiare un auto ma il traffico caotico ed indisciplinato e la cartellonistica solo in cirillico sconsigliano questa impresa.
In posizione diametralmente opposta rispetto al centro di Mosca rispetto a SVO ma ben più distante (42 Km.) e dedicato ai voli nazionali fin dalla sua apertura nel 1965, dal 1992 è diventato internazionale e grazie soprattutto al boom dei viaggi vacanze di moscoviti verso i resort del Mediterraneo in estate e le piste da sci sulle Alpi in inverno ha ormai strappato il ruolo di leader a Sheremetyevo superando il traguardo dei 22,5 milioni di passeggeri nel 2010.
Molti vettori internazionali hanno ora scelto DME come scalo a Mosca. Dal punto di vista spotteristico il traffico è assai più interessante anche se una buona fetta dei movimenti è coperta da due vettori che negli ultimi hanno hanno avuto una crescita esponenziale: S7 Airlines (con la caratteristica livrea verde mela) e Transaero che proprio grazie ai voli charter ha messo insieme una flotta di tutto rispetto che include anche numerosi 747.
Per fortuna vi sono ancora operatori domestici che utilizzano prodotti dell'industria sovietica fra cui Tu 134, Tu 154, Yak 40 e 42 ed Il 62. Purtroppo i giorni del primo wide body sovietico, l'Il 86 sono finiti. Messo a terra definitivamente alla fine del 2010 è tuttavia presente sullo scalo in numerosi esemplari accantonati insieme a tanti altri Tupolev nel prato tra le due piste a sud del piazzale principale. Non dureranno a lungo anche perché durante la mia visita la fiamma ossidrica era già al lavoro vivisezionando un povero 154.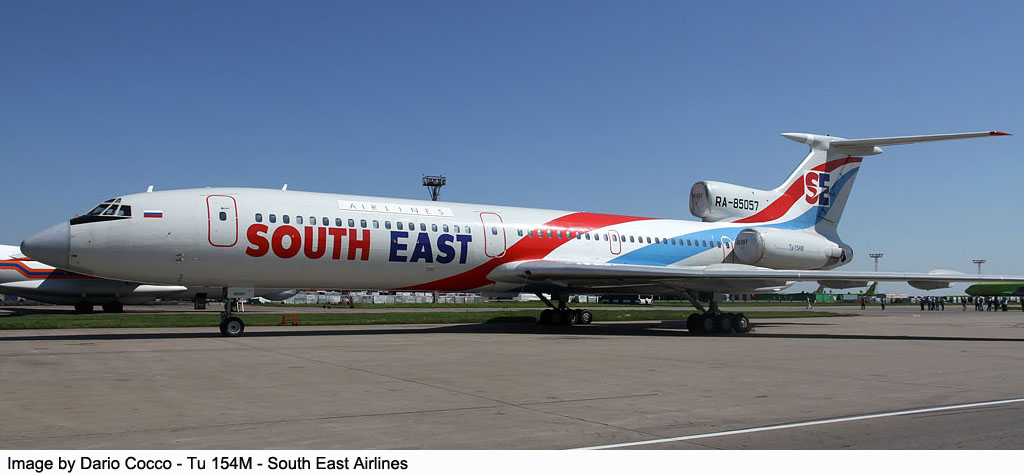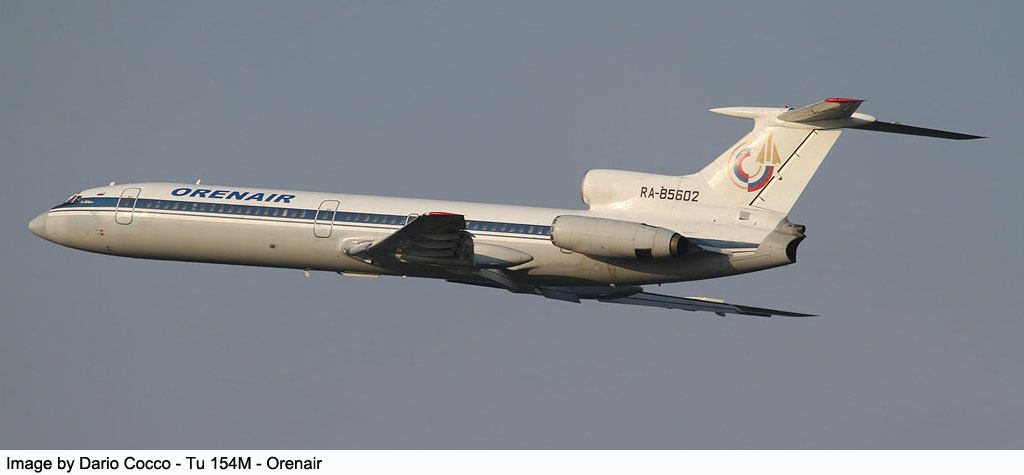 Situato a 27 Km. a Nord della capitale, recentemente ristrutturato e dotato di un moderno terminal ha movimentato nel 2010 quasi 20 milioni di passeggeri, tuttavia è forse il meno interessante dei tre in quanto base operativa di Aeroflot che ormai utilizza quasi esclusivamente Airbus. E' inoltre utilizzato da quasi tutte le principali compagnie europee e quindi può diventare un tantino noioso per lo spotter in cerca di rarità. Tuttavia è ancora in attività il vecchio terminal a Nord delle piste, anche se poco utilizzato, solamente da qualche vettore charter e low-cost fra cui Avianova e Nordstar.
Poco fuori dal perimetro aeroportuale fa bella mostra di sé un esemplare di Il-18 ottimamente conservato. Non altrettanto si può dire della collezione di aerei da trasporto della vecchia Aeroflot parcheggiati nel "cortile" dell'istituto tecnico aeronautico Novohatskoy.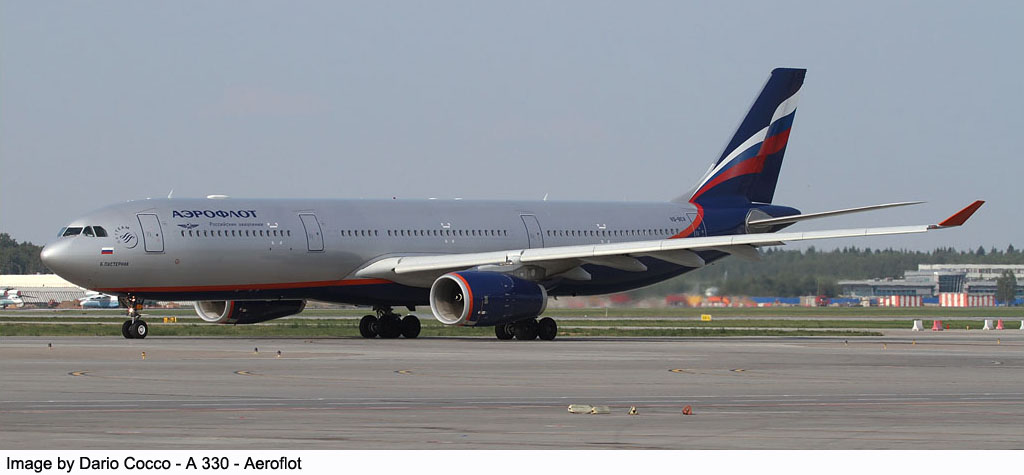 Con un traffico decisamente più modesto ma in forte crescita (quasi 10 milioni nel 2010) si può giustamente considerare il terzo aeroporto della capitale anche se storicamente è il più antico dei tre essendo stato aperto nel 1941.
Situato 27 Km. a sud-ovest lungo l'autostrada M3 è anch'esso in fase di profonda ristrutturazione. Qui il vettore dominante è la UTair che con una flotta di oltre 150 aeroplani (mix occidentale e sovietico) garantisce collegamenti nazionali ed internazionali. A VKO fanno anche capo molte aerolinee minori, sono di base numerosi operatori executive e corporate ed inoltre la compagnia aerea governativa Rossiya con tutta la flotta dei trasporti VIP (purtroppo out-of-limits per i fotografi).
Sul lato occidentale dell'aeroporto ha sede il VARZ400 (Impianto di Riparazione Aeromobili 400) una vasta officina di manutenzione abilitata soprattutto ai tipi sovietici che negli hangar un po' polverosi e nei piazzali antistanti riserva sempre qualche "chicca" interessante per gli appassionati.
In conclusione quindi, e lo potete vedere dalle immagini, una visita di gran successo che, se fatta solo pochi anni addietro, avrebbe garantito qualche soddisfazione maggiore poiché purtroppo i veri aerei russi sono ahimè una razza in via di estinzione.
Foto e testo di Dario Cocco
Agosto 2011
English translation
It was one of my many dreams buried deep in a drawer and finally last summer that drawer has been opened.
The occasion was my decision of attending the MAKS (Russian Air Show already depicted in a dedicated report).
But since I am particularly fond of civil aviation my curiosity to see what happens in the Russian airports was great.
Unfortunately I got there a little too late, globalization has also reached the Soviet Union and Boeing and Airbus dominate leaving less room for local products which are as fascinating as nowadays very difficult to see on our airports.
For the logistics of the trip, contrary to my habits, I decided to travel with a group using the services of an English tour operator specialized in spotting trips who however relies on Olga, an energetic and resolute local guide who has stopped by several years to accompany tourists to the Kremlin instead of devoting herself to arrange visits for groups of spotters from around the world.
Thanks to her contacts was thus possible to have a privileged access to the ramps of the Moscow airports without fear of being arrested by the KGB and end up at the Lubyanka.
Although I cannot complain about the organization of the visits I have to say that, if there will be a next time, I will go to Moscow by myself because I have noticed, with great pleasure, that stay along a runway to photograph aircraft is not only tolerated by the authorities but even grown-up by local enthusiasts who spend hours on sunny summer days together with families watching the comings and goings of the jet as it happens around every airport in the western world.
Another pleasant surprise came from the weather, just one bad day in the eight I spent on Soviet territory, with real summer temperatures and clear skies.
The only difficulty in organizing a trip "do-it-yourself" is the one associated with the language (since there only a few speak a decent English) and with the interpretation of everything which is written in Cyrillic which of course always requires a supplemental brain activity.
And then you have to take into account not only the difficulty of transfers but the time needed requiring long trips in over-crowded trains and subways. Nowadays you can also rent a car, but undisciplined and chaotic traffic and road signs in Cyrillic only advise against this venture.
There are three major airports in Moscow:
Sheremetyevo (SVO/UUEE)

Located 27 km north of the capital, newly renovated with a modern terminal has handled in 2010 nearly 20 million passengers, however, is perhaps the least interesting of the three as it is the main base of Aeroflot which nowadays flies almost exclusively Airbuses. It 'also used by almost all major European airlines so therefore can become a bit boring for the spotter in search of rarities. However, it is still operating the old terminal to the north of the runways, although sparsely used only by a few low-cost and charter carrier including Avianova and Nordstar.
Just outside the airport perimeter is proudly displayed a very well-preserved Il-18. The same can not be said about the collection of the old Aeroflot planes parked in the "backyard" of the Aeronautical Engineer Institute Novohatskoy just across the perimeter road.
Domodedovo (DME/UUDD)

Diametrically opposite to the center of Moscow from SVO but much more distant (42 km) and dedicated to domestic flights since its opening in 1965, starting as recently as 1992 it has become international thanks to the boom of travels abroad towards the holiday resorts in the Mediterranean in summer and for skiing in the Alps in winter of the Moscovites DME has stolen the leadership of Sheremetyevo surpassing the target of 22.5 million passengers in 2010.
Many international carriers have now chosen DME as their Moscow port of call. From the spotting point of view traffic is much more interesting here even though a good portion of the movements is covered by two carriers which in recent years experienced an exponential growth: S7 Airlines (with the characteristic apple green livery) and Transaero which has put together a sizeable charter fleet that also includes several 747s.
Fortunately there are still domestic operators who utilize Soviet industry products including Tu 134, Tu 154, Yak 40 and 42 and Il-62. Regrettably the days of the first Soviet wide-body, the Il-86 are now over. Grounded permanently at the end of 2010 is however present in several examples on the field along with many other Tupolev abandoned in the grass between the two runways south of the main apron. They are not going last long because when I visited the torches were already at work dissecteing a poor 154.
Vnukovo (VKO/UUWW)

With a traffic much more modest but growing (almost 10 million in 2010) can rightly be considered the third busiest airport of the capital even if it is historically the oldest of the three having been opened in 1941.
Located 27 km south-west along the M3 motorway is also undergoing a major restructuring. Here the dominant carrier is UTair that, with a fleet of over 150 aircraft (Western and Soviet mix), provides national and international connections. At VKO are also operating many smaller airlines, lots of corporate and executive operators and is based the government airline Rossiya with all the VIP transport fleet (unfortunately out-of-limits to photographers).
The western side of the airport is home to the VARZ400 (Aircraft Repair Plant 400), a large maintenance workshop specialized in the Soviet types; in the dusty hangars and on the aprons within these premises some "gems" interesting for enthusiasts can often be seen.
In conclusion then, as you can see from the pictures, it was a very successful visit which, if made only a few years ago, would have given even greater satisfaction because unfortunately the real Russian planes are now an endangered breed.
Images and text by Dario Cocco
August 2011