Il giorno 30 Aprile 2022 si è svolta presso la base di Batajnica, a pochi chilometri da Belgrado, la dimostrazione Shield 2022 che ha visto la partecipazione di 60 tra aerei ed elicotteri da combattimento ed è stata presenziata da 1.000 membri del Ministero della Difesa serbo. In campo la 72 Brigata Operazioni speciali dell'Esercito serbo e la 63 Brigata Paracadutisti, oltre ai MiG 29, Mi-35, Soko J-4 Super Galeb e Antonov An-26 della 204 Brigata d'Aviazione basata a Batajnica e i Soko J-22 Orao i Mi-8 e Mi-17, Mi-35, Airbus H-145 e HO-45 Gazelle della 98 Brigata d'Aviazione basati a Kraljevo e a Nis.
La dimostrazione ha permesso alle Forze Armate serbe di esibire il loro potenziale di difesa in un periodo storico in cui le tensioni internazionali sono in costante incremento, e la Serbia, non membro della NATO, ha dimostrato un elevato potenziale di difesa del proprio territorio.
Grazie agli ingenti investimenti e al sostegno del Presidente Aleksandar Vucic, la Serbia è riuscita ad aumentare le capacità della propria Forza Armata, per portarla ai massimi livelli.
Questo, nel campo dell'aviazione, è frutto anche del recente percorso di ammodernamento del materiale di fornitura russa, nato sotto il programma denominato "Project 1500+".
Nel 2016, per la prima volta dopo il 1991, la Serbia ricevette due nuovi elicotteri Mi-17V, e nel 2019 i nuovi Airbus H145M e i Mi-35. Ma è stato nel 2020 che venne posta una pietra miliare della storia delle Forze Armate serbe, con la fornitura dei primi UCAV (Unmanned Combat Aerial Veihicles) cinesi CH-92.
Nel 2017, sei velivoli MiG 29 che la Serbia ricevette dalla Russia entrarono in servizio, e nel 2019, ulteriori quattro velivoli MiG 29 vennero ricevuti dalla Bielorussia, dopo un percorso di aggiornamento effettuato presso la 558th Aircraft Overhaul Istitute di Baranovichi, in Bielorussia. Tutti questi MiG 29 in versione 9-13 (C in denominazione NATO) sono andati ad aggiungersi ai quattro vecchi MiG 29 della versione 9-12 (A in denominazione NATO) che la Serbia aveva già in servizio.
La fornitura di questi 10 MiG 29 unitamente all'assistenza tecnico-militare della Russia e della Bielorussia è solo uno degli indicatori del risultato della cooperazione militare ed economica di successo nel campo della difesa tra questi tre Paesi alleati.
Con la modernizzazione della flotta di MiG 29 la Serbia ha incrementato il suo potenziale di efficienza al combattimento, aumentato le capacità della Forza Aerea e della Difesa Aerea estesa su tutto il territorio serbo.
La prima fase della modernizzazione dei MiG prevedeva di portare il loro livello allo standard ICAO, mentre la seconda fase prevedeva un aggiornamento delle capacità radar, migliorando le capacità di rintracciare e seguire il bersaglio in volo, di ingaggiare bersagli a terra con armamenti di precisione guidati, miglioramenti dei sistemi di guerra elettronica e ricognizione, capacità di impiegare nuovi armamenti aria-aria e aria-terra guidati.
Come ci spiega il PAO dell'Aviazione serba, una delle condizioni per il regolare funzionamento del traffico aereo è l'abilità della Forza Aerea e della Difesa Aerea di assicurare che non vi siano ostacoli ai voli civili sul territorio nazionale, e con questo fine, i MiG 29 serbi sono utilizzati come parte fondamentale della routine che fornisce il costante controllo dello spazio aereo, h 24 per 365 giorni all'anno. Con lo scopo di creare le necessarie condizioni per la manutenzione e l'operabilità dei velivoli è stato creato, sull'aeroporto "Colonel-Pilot Milenko Pavlovic" di Batajnica, un nuovo moderno hangar per ospitare i MiG 29 aggiuntisi ai precedenti quatto in dotazione fino al 2017.
Pure il percorso di addestramento basico ed avanzato dei piloti dei MiG 29 contribuisce ad aumentare il nuovo livello di capacità della Forza Aera serba. Con un maggiore numero di aerei a disposizione, da quattro a quattordici, il numero di ore di volo di ogni pilota del Reparto è aumentato, portando ad un aumento del livello di preparazione e di professionalità e di abilità di volo e dal 2019, i giovani nuovi piloti iniziano il loro percorso formativo presso la Federazione Russa.
Ora i piloti ed il personale specialista possono vantare i più moderni equipaggiamenti di volo, come tute anti-G, nuovi guanti e stivali e nuovi caschi, e lo stato economico dei piloti ha visto un incremento, legato alla volontà di creare una nuova e moderna, al passo coi tempi, aviazione in Serbia. La retribuzione dei piloti militari è stata equiparata a quella dei piloti del Ministero degli Interni serbo.
La modernizzazione dei J-22 Orao è stata svolta dal Vojnotehnicki Institut e prevedeva nuova avionica, nuovi sistemi di gestione degli armamenti, nuovi sistemi ottici elettronici con un visore termico, nuovo sistema di navigazione, nuovo computer di missione, navigatore con INS/GPS, HOTAS e nuovi armamenti.
Con questi miglioramenti i J-22 serbi sono ora in grado di svolgere missioni sia diurne che notturne, nel ruolo congenito di attacco al suolo e CAS, con maggiore precisione e grazie all'utilizzo di armamenti prodotti in Serbia, e aumentarne cosi le capacità di sopravvivenza nel contesto bellico e riducendo il carico di lavoro dei piloti.
Infine, anche gli HO-45 Gazelle concepiti inizialmente per l'addestramento e il trasporto, secondo la dichiarazione del Presidente di Serbia, che: "tutto quello che vola, deve anche sparare", hanno visto l'introduzione di armi non guidate e un cannone da 12.7mm.
Alla dimostrazione era presente anche il sistema di difesa aerea FK-3, la versione da esportazione del cinese HQ-22. La Serbia ne è il primo operatore europeo e questo ha sollevato alcune polemiche in Europa e da parte degli Stati Uniti, ma il Presidente serbo ha replicato che l'acquisto è totalmente legittimo, regolare e trasparente. Ne sono state acquistate quattro batterie che hanno una portata di 100 km di autonomia e una tangenza di 27 km.
Il 16 aprile il Ministro della Difesa serbo Nebojsa Stefanovic ha dichiarato che l'aviazione serba è in trattative per l'acquisto di 12 Typhoon dalla Royal air Force e ulteriori 12 Rafale dalla Francia. Il Ministro ha aggiunto che si sta cercando una tipologia di missile, non specificato,che possa essere utilizzato dal Typhoon cosi come dal Rafale come parte integrante dell'accordo e che la volontà di Francia o della Gran Bretagna di vendere questo missile potrebbe essere un fattore in qualsiasi decisione di acquisto. Gli EF-2000 Typhoon molto probabilmente sarebbero quelli della tranche-1 che dovrebbero essere ritirati dal servizio con la RAF entro il 2025. Il Ministro Stefanovic ha inoltre dichiarato che le risorse aeronautiche della Serbia andranno ad esaurirsi nei prossimi 10 o 12 anni e da qui l'intenzione di acquistare questi nuovi velivoli.
La Shield 2022 si colloca in questo scenario,di aggiornamento e modernizzazione delle potenzialità delle Forza Armata serba, espressione di una modernizzazione degli equipaggiamenti e di un più intenso percorso formativo, con lo scopo ultimo di aumentarne le capacità difensive.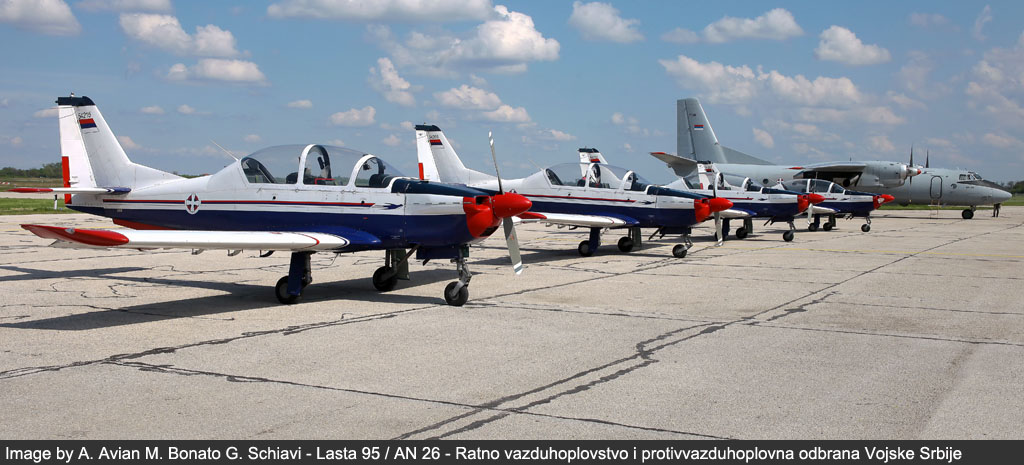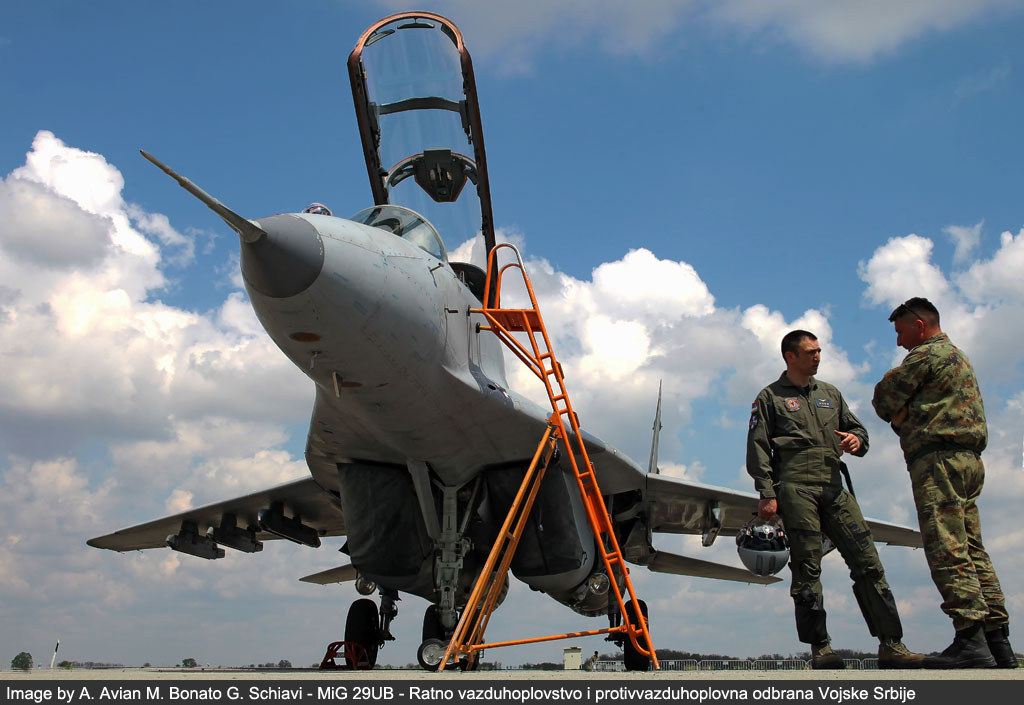 Foto e testo di Andrea Avian, Mirco Bonato e Giacomo Schiavi
Aprile 2022
English translation by Andrea Avian and Mirco Bonato

On 30th April in Batajnica air base, few kilometers far from Belgrade, has been hold the demonstration "Shield 2022" with the participation of 60 machines between aircraft and helicopters and saw the presence of 1.000 members of Serbian Ministy of Defence. On the field there was the 72nd special operation Brigade of Serbian Army and the 72nd paratroopers Brigade. The Air Force was rapresented by MiG 29, Mi 35, Soko J-4 Super Galeb and Antonov An-26 from 204 Aviation Brigade based in Bartajnica and Soko J 22 Orao, Mi 8, Mi 17, Mi 35, Airbus H145 and HO-45 Gazelle from 98 Aviation Brigade based in Kraljevo and Nis.
The Shield 2022 put the Serbian armed forces in condition to show all its new power of defence in a historical period where the international tensions are increasing every day, and Serbia, which is not a NATO Country, demonstrated an high level of defence capabilities. Thank to the huge financial investments and support of President Aleksandar Vucic, Serbia was able to enhance the capabilities of its armed force and lead them to their maximum level. This aspect, in the serbian aviation, is even the result of the recent modernization process of the soviet material, under the program called "Project 1500+".
In 2016, for the first time after 1991, Serbia received two new helicopters Mi 17V, and in 2019 the new Airbus H145M and Mi 35. But in 2020 had been put a milestone in the History of Serbian armed forces, with the delivery of the first UCAV (Unmanned Combat Aerial Vehicles), the cinese CH-92.
During 2017, six MiG-29 aircraft that the Serbian Armed Forces received from the Russian Federation were put into operation, and in 2019, another four aircraft of this type were received as a donation from the Republic of Belarus and will be delivered to Serbia after the completion of their modernization which started at the Belarusian "558th Aircraft Overhaul Institute" in Baranovichi in February this year. All the works are performed in accordance with contractual obligations, technological dynamics and technical documentation.
The procurement of 10 MiG-29 aircraft through military-technical assistance of the Russian Federation and the Republic of Belarus is only one of the indicators of the results of developed and successful military-economic cooperation and cooperation in the field of defence between these three Countries.
These 10 MiG is 9-13 version, "C" in NATO nomination, and they enhanced the old fleet composed by four MiG 29 9-12 version, "A" in NATO nomination.
By modernizing MiG-29 aircraft, combat efficiency and firepower are increased, which significantly enhances the capabilities of the Air Force and Air Defence to control and protect airspace over the Republic of Serbia and at its access points. The first phase of the modernization consisted in the conversion of all MiG to the standard ICAO, while the second phase consisted in an upgrade of the radar capabilities, with an improvement in the capabilities to detected and follow an airborne target and to engage targets on the ground with guided weapons, improvement in the electronic warfare systems and reconnaissance systems and in the capabilities of employing new weapons.
One of the conditions for normal functioning of air traffic is the ability of the Air Force and Air Defence to ensure unhindered flight of civilian aircraft over the territory of the country, so in accordance with that, MiG-29 aircraft are used as part of the duty unit which provides constant airspace control, 24 hours a day, 365 days a year. In order to create necessary conditions for housing and maintenance of aircraft, the final phase of the construction of a hangar for housing MiG-29 aircraft that are part of the duty unit is underway at the military airport "Colonel-Pilot Milenko Pavlović" in Batajnica. By creating conditions for housing aircraft, the impact of weather conditions will be minimized, the time required to prepare the aircraft and human effort will be reduced.
The process of training and advanced training of military pilots for MiG-29 aircraft also contributed to enhancing the operational capabilities of the Air Force and Air Defence. With a larger number of MiG-29 aircraft, the number of flight hours of each pilot in the squadron has been increased, which means that the level of training of personnel is much higher than it was in the previous period. Also, for the needs of training of younger pilots, in 2019, basic training and battle drills were conducted in the Russian Federation.
All pilots and fliers can boast of the most modern flying equipment including flying coveralls, boots and gloves. The financial status of pilots and fliers in the Air Force has been directly improved by increasing salaries, so, as of this year, the salaries of military pilots have been equalized with the salaries of pilots in the Ministry of the Internal Affairs. Also, better employment elements for pilots and technicians were determined, which made advancement in service faster.
In addition to new aircraft, a serious training program, continuous training and keeping the achieved capabilities of our pilots on the same level, have significantly contributed to the enhancement of operational capabilities of the Air Force and Air Defence.
The modernization of the J-22 Orao had been performed by Vojnotehnicki Institut and consisted in new avionics, new weapons managing system, new electronic optical systems with a thermic visor, new navigation system, new mission computer, navigator INS/GPS, HOTAS and new weapons. Now, with these improvements, the Orao can provide daily and night mission in the classic CAS role and ground attack, with improved precision and with a less workload for the pilots.
Following the declaration of serbian President that "everything that fly, must even fire", the HO-45 Gazelle, that was realized for training and transport, had been armed with no guided rockets and with a 12.7mm gun.
At Shield 2022 was presented even the air defense system FK-3, the export version of the China HQ-22. Serbia is the first European operator of this system and this produced few controversy by Europe and United States, to that the serbian President replied that the deal was legitimate, regular and transparent. Serbia bought four batteries that have a range of 100km and 27km in altitude.
On 16th April the Minister of defense, Nebosja Stefanovic, declared that the Serbian Air Force is following negotiations with Great Britains for the purchase of 12 Typhoon and with France for the purchase of 12 Rafale. The Minister even declared that Serbia is searching for a type of missile that can be shared by EF-2000 and Rafale, without entering in the specification of what is this type of missile, and the will of France or Great Britain to sell that missile will be a decisive factor in the final purchase decision.
The EF-2000 should be from tranche-1 that are going to be retired form RAF service within 2025. Minister Stefanovic even declared that Serbian aviation resources will run out in the next 10-12 years and hence the intention to buy other new fighter jets.
The Shield 2022 fits into this scenario of upgrade and modernization of the capabilities of serbian armed forces, expression of a modernization of equipments and of a more intense training path, with the final aim to enhance the national defense capabilities.
Images and text by Andrea Avian, Mirco Bonato and Giacomo Schiavi
April 2022