Anche quest'anno l'Aeroclub di Varazdin, 80 Km a nord di Zagabria, ha organizzato il tradizionale Air Show che ha visto la partecipazione di aerei civili e militari croati e stranieri.
Fra gli aerei storici, si faceva ammirare lo Yak11 D-FJII, recuperato in Egitto negli anni ottanta, che ha fatto sentire il rombo dello Shvetson da 580 CV, il Beechcraft C 45 con tanto di nose Aat, ed un classico Soko G 2A Galeb che ha ricreato l'atmosfera della Yugoslavia con una impeccabile esibizione molto applaudita.
Fra gli aerei privati ha brillato l'esibizione dell'Extra 300 Twister del pilota acrobatico croato Branimir Ambrekovic.
L'Helicopterska Jedinica della Polizia ha mostrato l'EC135 e l'AB 212 in una operazione antiterrorismo molto dinamica.
La ditta CSG che assiste e prepara gli operatori di Black Hawk, ha suggerito l'S 70 per sostituire le macchine sovietiche ancora in linea nei paesi dell'ex Patto di Varsavia.
Il Black Hawk esposto solo in statica mostrava le insegne dell'Aeronautica Militare della Slovacchia, il più recente acquirente dell'elicottero statunitense.
I fast jets di varie forze aeree hanno partecipato allo show con passaggi o programmi acrobatici, senza atterrare sulla pista che è di oltre 2.000 metri ma manca dei requisiti di sicurezza; ammirati sono stati il Typhoon della Royal Air Force, il Gripen dell'aviazione ungherese, l'F18 spagnolo, il Saab 105OE austriaco.
L'Aeronautica polacca ha partecipato con due PZL "Orlik" della 42.BLSz, mentre la Slovenia ha mandato un Pc 9M dalla vicina Cerklje.
La forza aerea di casa, Hrvhatske Zracne Snage era molto attesa; un Mig 21UMD della 91.ZB ha presentato un programma acrobatico fra i migliori che il caccia ormai obsoleto può offrire, mentre due monoposto Mig 21D (D sta per modificato) hanno fatto un passaggio veloce al rientro a Pleso dopo uno scramble addestrativo.
Un AT 802F nella insolita versione biposto ha dimostrato le sue capacità antincendio.
La Pattuglia Acrobatica croata "Wings of Storm" si è esibita a Varazdin al comando dell'Lt. Darko Belancic, è stato possibile apprezzare la grande stabilità della formazione dei Pilatus Pc 9M.
Ma la novità di CIAV 2018 è stata la presentazione dei Bell OH 58D Kiowa di recente acquisiti presso la 93.ZB nel ruolo di aerocooperazione con elicotteri da trasporto. In questo caso un Mil Mi 8MTV ha sbarcato truppe speciali sotto la protezione delle 12,7 mmm e dei lanciarazzi LAU68 di due Kiowa.
L'acquisizione delle nuove macchine provenienti dall'United States Army avvenuta nel 2016 è stata facilitata dalla presenza in linea nella HZS di alcuni AB 206B, che dal punto di vista del pilotaggio sono molto simili. Un contratto per dotare i Kiowa di AGM-114 "Hellfire" è già stato firmato. L'OH 58D, oltre ad essere il velivolo più fotografato dagli spotters, ha incuriosito moltissimo il folto pubblico per la presenza di una grossa "sfera" posta sopra il rotore dell'elicottero, la sfera è un apparato ottico di rilevamento denominato Mast-Mounted Sight (MMS).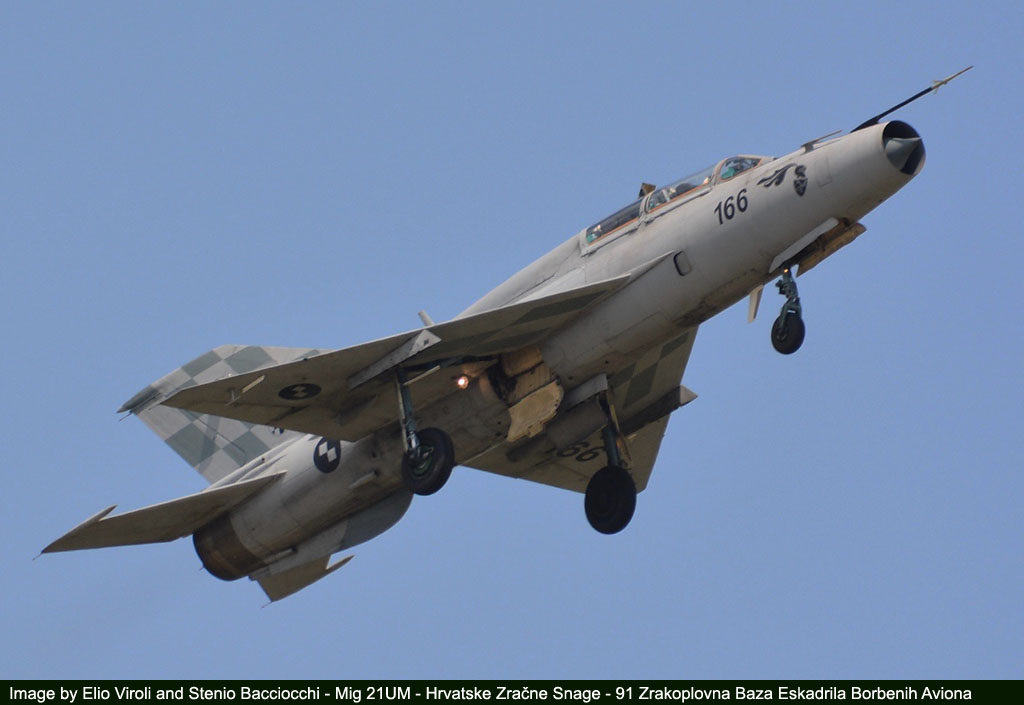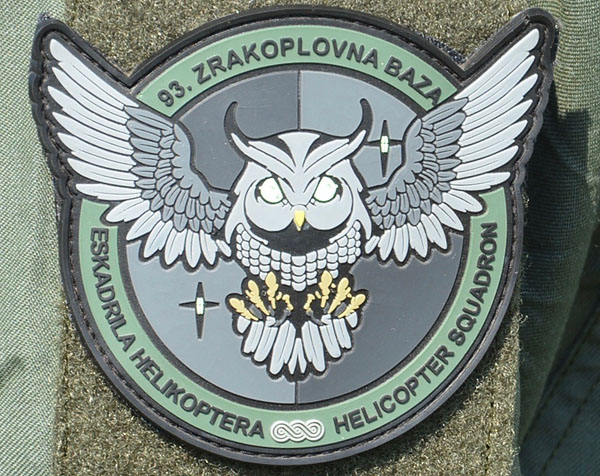 Foto e testo di Elio Viroli e Stenio Bacciocchi
Luglio 2018
English translation by Frank McMeiken
Once again, this year the Aeroclub at Varazdin, 80 km north of Zagreb, organized its traditional Air Show, which saw the participation of Croatian and foreign civilian and military aircraft.
Amongst the historic aircraft, Yak 11 D-FJII could be admired, recovered from Egypt in the mid-eighties, its 580 hp Shvetson engine making an impressive noise. Other stars were a Beechcraft C 45 with much nose art and a classic Soko G 2A Galeb, which recreated the atmosphere of the former Yugoslavia with an impeccable display that was met with much applause.
Amongst the private aircraft displays that stood out was that of the Extra 300 Twister flown by Croatian aerobatic pilot Branimir Ambrekovic.
The Helicopterska Jedinica of the Police displayed an EC135 and an AB 212 in a very dynamic anti-terrorist operational scenario.
During the event the CSG company, which assists and trains Black Hawk operators, proposed the S 70 as a substitute for the Soviet era helicopters still in front line service with the former Warsaw Pact nations. The Black Hawk on static display carried the insignia of the Slovak air force, the most recent customer for the American helicopter.
Fast jets from the various air forces participating in the show flew fly past or aerobatic displays without landing on the runway which, although more than 2,000 metres in length, lacked some of the essential safety features to support their operation; these included a Typhoon from the Royal Air Force, a Hungarian Air Force Gripen, a Spanish F-18, and an Austrian Saab 105OE.
The Polish Air Force took part with two PZL "Orlik" from the 42.BLSz, while Slovenia contributed a Pc 9M from nearby Cerklje.
The participation of the local air force, the Hrvhatske Zracne Snagem, was highly anticipated; a Mig 21UMD of the 91.ZB flew an aerobatic program that was amongst the best that this now obsolete fighter has to offer, while two single seat Mig 21D (D meaning modified) flew a fast pass on their return to Pleso following a training scramble. An AT 802F in an unusual two-seat version demonstrated its fire-fighting capabilities.
The Croatian "Wings of Storm" aerobatic team display at Varazdin, led by L.tn Darko Belancic, and spectators were able to appreciate the excellent stability of the formation of Pilatus Pc 9M. However, the real highlight of CIAV 2018 was the presentation of the recently acquired Bell OH 58D Kiowa by the 93.ZB, cooperating with transport helicopter operations. In this case a Mil Mi 8MTV offloaded special forces under the protection of the 12.7 mm machine guns and LAU68 rocket launchers of the two Kiowa. The acquisition of the new machines, drawn from United States Army stocks, dates from 2016, and was facilitated by the presence in the HZS of a few AB 206B, which from a piloting point of view are very similar. A contract to equip the Kiowa with AGM-114 "Hellfire" has already been signed. The OH 58D, besides being the aircraft most photographed by the spotters, raised much curiosity amongst the visitors due to the large sphere located on top of the rotor mast, containing the optical Mast-Mounted Sight (MMS).
Images and text by Elio Viroli and Stenio Bacciocchi
July 2018