Dal 22 al 27 agosto si è svolto nella Federazione Russa a nord ovest della capitale nell'area metropolitana moscovita, l'atteso ARMY 2017 una manifestazione annuale che ha per tema gli armamenti che la Russia progetta, produce,commercia ed utilizza con le sue forze armate. Questo evento ha avuto tre differenti palcoscenici, il Parco Patriottico per incontri e conferenze, il poligono di tiro di Alabino per dimostrazione di tiro e la base aerea di Kubinka. Le tre location sono state aperte al pubblico. Abbiamo scelto di visitare la base aerea che è sede del 237° Gruppo che si occupa di mostrare gli armamenti aeronautici e gestisce le due pattuglie acrobatiche della VVS, gli "Swifts"(in russo Strizhi) su Mig 29 monoposto e biposto ed i "Russian Knights" su Sukhoi Su 30SM. La mostra statica era davvero imponente con l'esposizione di quasi tutti i velivoli in linea con la VVS che da poco ha assunto il nome di Russian Air Force and Space Forces avendo incorporato anche il settore spaziale. Ogni specialità delle forze aeree era rappresentata, anche l'aviazione strategica che mostrava in statica un esemplare del Tupolev Tu 95MS ed un Tupolev 160M vere star ammirate da tutti.
Mi voglio soffermare su alcuni velivoli significativi della attuale VVS e che sicuramente saranno presenti per molti anni nel suo futuro e fornire alcune notizie raccolte in un inglese stentato dal sempre disponibile personale.
Il Mig 31 è ancora presente in linea con la VVS nonostante la vita quasi trentennale della cellula; l'intercettore con grande autonomia è stato rilanciato dalla necessità di una presenza militare nei territori oltre il circolo polare artico; i "Foxhound" modernizzati nelle versioni BM e BSM possono lanciare anche i più moderni missili aria-aria RR77 BVR e R73 WVR.
Il Mig 35 di cui era presente un prototipo è ancora in fase di valutazione da parte del 929 GLIT ed esteticamente dichiara in modo esplicito la sua derivazione dal Mig 29 ma ha un propulsore più potente che deriva dalla versione navalizzata del Fulcrum, in sintesi un aereo completamente nuovo ma dal futuro ancora incerto.
Il Sukhoi 34 dal becco di papero, codice NATO "Fullbacks" è invece il naturale successore del Sukhoi 24M di cui conserva i posti affiancati; è il nuovo bombardiere frontale con capacità di lancio di bombe cosiddette intelligenti ma anche un sofisticato ricognitore con un Pod centrale utilizzabile anche per missioni ELINT. Può anche lanciare missili R73 aria-aria per autodifesa ma può svolgere con efficacia anche attività di difesa aerea.
L'addestratore avanzato Yakovlev Yak 130 è il gemello del Leonardo M 346 ma ha decisamente motori meno potenti. E' già in linea come addestratore avanzato ma non è proponibile per l'addestramento basico per la complessità e l'alto costo di esercizio. Le scuole della VVS che sfornano oltre 200 piloti all'anno non hanno ancora trovato il sostituto degli ultimi Aero L 39C, ormai in linea in poche decine di esemplari. La ditta ceka Aero ne consegnò ben 2.000 all'Unione Sovietica, ma poi l'assistenza venne meno e fu riorganizzata in Russia per lo più a Krasnodar.
Visibile nella mostra statica di Kubinka anche la versione modernizzata ad autonomia incrementata del "Mainstay", il Beriev A50U AEW in una livrea inedita grigio scuro.
Ma il velivolo che attualmente rappresenta la spina dorsale della VSS è il "Flanker". Dalla versione Sukhoi 30 presentata brillantemente dai "Russian Knights" si è passati da quella aggiornata Su 27SM , al Su 30M2 ed SM fino al Sukhoi Su 35S con l'obiettivo di migliorare l'aerodinamica, la potenza dei propulsori e la precisione di tiro aria-terra. Nella difesa aerea, lo specifico campo del Flanker, nelle versioni più recenti, utilizzano missili aria-aria di nuova generazione come l'R77 a guida BVR (Beyond Visual Range).
Per l'ala rotante in evidenza il Mi 28N presentato in volo dalla pattuglia di quattro elementi "Berkuts" che impiega questa macchina dal 2012 dalla base aerea di Torzhok con livrea standard e non speciale come di regola per una Pattuglia Acrobatica.
Presente anche il Kazan Ansat-U elicottero di tipo utility destinato a sostituire il Mi 2 ma dalla incerta fortuna. Viene prodotto dalla Kazan in Tatarstan, ditta che in passato ha collaborato con Eurocopter.
Nella sua breve presentazione in volo il Kamov Ka 52 "Alligator" ha dato prova di grande manovrabilità dovuta al rotore coassiale ed il propulsore molto potente progettato per operare in altura.
L'Aviazione di Marina (Aviacjia Voenno-Morskogo) era rappresentata da un Kamov 27,un Ilyushin 38N "May" e dal Mig 29K.
Unica nazione ospite con velivoli è stata la Turchia che ha esibito le sue "Turkish Stars" che hanno compiuto i 25 anni supportata da un Airbus A 400M brand new.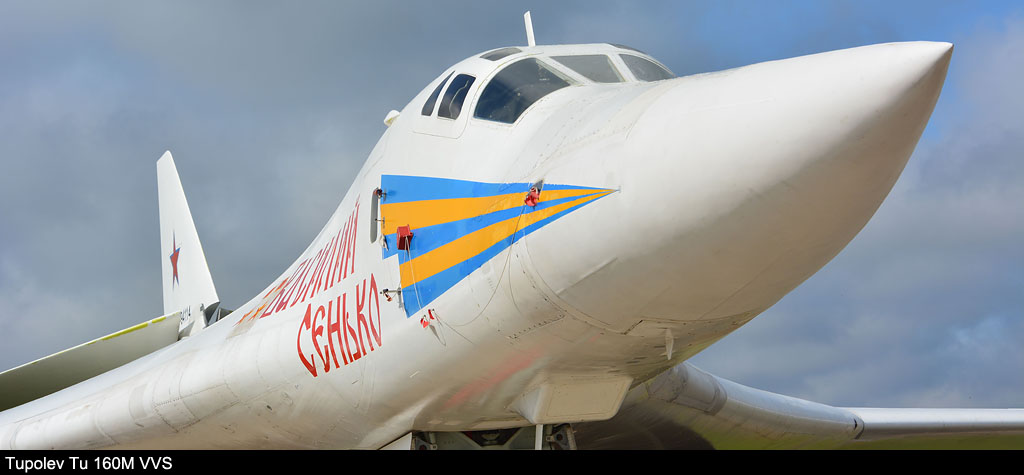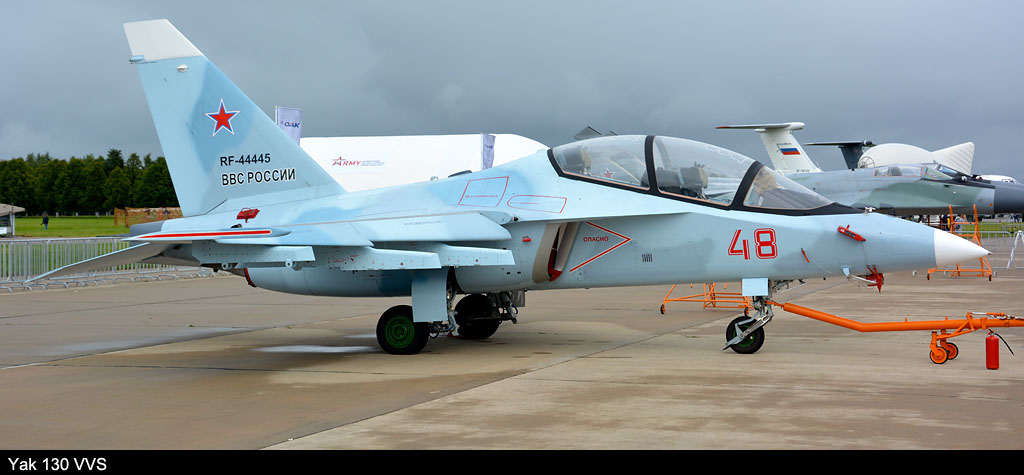 Foto e testo di Elio Viroli e Stenio Bacciocchi
Prodotto da Giorgio Ciarini
Agosto 2017
English translation by Frank McMeiken
Between 22 and 27 August the Russian Federation staged, to the North West of the Capital in the Moscow metropolitan region, the long awaited ARMY 2017, an annual display which has as its theme the weapons that Russia designs, manufactures, sells, and issues to its armed forces. The event is conducted at three different arenas, the Patriotic Park for conference meetings, the Alabino firing range for weapons demonstrations, and the air base at Kubinka for the flying. All three locations are open to the public. We elected to visit the air base, which is the home of the 237 Squadron, which is tasked with demonstrating aviation armament and the management of the two aerobatic teams of the VVS, the "Swifts"(in Russian "Strizhi") flying single and two seat Mig 29 and the "Russian Knights" with the Sukhoi Su 30SM. The static display was truly impressive, with a line up of nearly all the aircraft types serving with the VVS, which had recently adopted the name of Russian Air Force and Space Forces, having incorporated the responsibilities of the space sector. Each speciality of the air forces was represented, including the Strategic Aviation, which put on display in the static park examples of the Tupolev Tu 95MS and Tupolev 160M, real starts that were admired by all present.
It is worth examining some of the significant aircraft presently serving with the VVS, and which certainly will feature for many years in its future, and to offer some information provided in the broken English used by the always cooperative personnel.
The Mig 31 is still serving with units of the VVS despite the almost thirty year life of its airframe; this long range interceptor originated from the requirement to deploy a military presence within the territory inside the Arctic circle. Those "Foxhound" modernised into the BM and BSM versions can also launch the more modern RR77 BVR and R73 WVR air-to-air missiles.
The Mig 35 was present in prototype form, was still undergoing evaluation by the 929 GLIT, and its appearance clearly demonstrates its background as a derivative of the Mig 29. Its engine system is much more powerful, being derived from the navalised variant of the Fulcrum; in synthesis, it is a completely new aircraft, but its future is still undefined.
The duck-billed Sukhoi 34, NATO codename "Fullback", is, on the contrary, the natural successor to the Sukhoi 24M, of which it retains the side-by-side seating configuration; it is the new frontal bomber with the ability to launch so-called smart weapons but can also serve as a sophisticated reconnaissance platform with a centrally mounted pod that can also support ELINT missions. It can also launch R73 air-to-air missiles in self-defence, although it can be effectively used as a stand-alone air defence asset.
The Yakovlev Yak 130 advanced trainer is the twin of the Leonardo M 346 but features decidedly less powerful engines. It is already in service as an advanced trainer, but is not offered in the basic training role due to the type's complexity and high operating cost. The VVS flying schools that produce more than 200 pilots every year have yet to identify a replacement for the remaining Aero L 39C, of which a fleet of some tens of aircraft are still in the fleet. The Czechia company Aero delivered more than 2,000 to the Soviet Union, but later their level of assistance was reduced, and production and support was reorganised in Russia, in the main at Krasnodar.
Visible in the static display at Kubinka was also a modernised and extended range version of the "Mainstay", the Beriev A50U AEW aircraft, wearing a previously unseen dark grey colour scheme.
However, the aircraft that represents the backbone of the VVS today is the Flanker". From the Sukhoi 30 displayed brilliantly by the "Russian Knights", the aircraft moves on to the upgraded Su 27SM , the Su 30M2 and SM, and eventually matures into the Sukhoi Su 35S, which has incorporated improved aerodynamics, engine power, and the precision of its air-to-air weapons. In the air defence field, the specific area of the Flanker, the most recent versions can utilise next generation air-to-air weapons like the R77 BVR guided missile.
In the rotary winged field, the Mi 28N was in evidence, presented by the four-ship "Berkuts" display team, which has utilised this machine since 2012, flying from the air base at Torzhok with aircraft painted in standard colour schemes, rather than the special colours that are the norm for display teams.
Also present was the Kazan Ansat-U utility helicopter, intended to be a replacement for the Mi 2, but with an uncertain future. It will be produced by Kazan in Tatarstan, a company which in the past has collaborated with Eurocopter.
During its brief flying demonstration the Kamov Ka 52 "Alligator" provided considerable evidence of the impressive manoeuvrability provided by its co-axial rotor and the very powerful engine that has been designed to power it.
The Naval Air Forces (Aviacjia Voenno-Morskogo) were represented by a Kamov 27, an Ilyushin 38N "May", and the Mig 29K.
The only guest nation to send aircraft was Turkey, which provided the "Turkish Stars" demonstration team, celebrating their 25 years of operation, and a brand new Airbus A 400M as a support aircraft.
Images and text by Elio Viroli and Stenio Bacciocchi
August 2017