Splendidamente restaurato da un gruppo di Marescialli appartenenti al Comando Aeroporto ed al 1° RMV (Reparto Manutenzione Velivoli) di Cameri. Questo F 104G aveva terminato la sua vita operativa nel 3° Stormo di Villafranca. Una volta radiato è stato trasferito a Cameri dove è stato usato per l'addestramento delle squadre di riparazione rapida sul campo. Più tardi è stato trasferito a Vigna di Valle per essere esposto al Museo Storico dell'Aeronautica Militare dove non è mai stato restaurato. Ormai in condizioni pessime è stato di nuovo trasferito a Cameri dove per volere del Comandante Colonnello Fabbri è stato restaurato nella colorazione storica inizio anni 60 quando sono arrivati a Cameri i primi Starfighter all'ancora non costituito 21° Gruppo Autonomo, velivoli che erano già stati assegnati al 51° Stormo di Istrana invece furono trasferiti a Cameri con già dipinto il codice 51.
Due particolarità che contraddistinguono il restauro sono le mascherature originali anni 60 del codice e dello stemma, custoditi gelosamente in sala verniciatura del 1°RMV.
Purtroppo la finitura metallica è una verniciatura e non il metallo del velivolo come in origine, questo si è reso necessario per proteggerlo dall'esposizione all'aperto, unico neo lo stemma della Tigre che non è mai comparsa su questo tipo di colorazione ma solo successivamente sul camouflage grigio verde, peccato veniale per l'amore del proprio passato. L'aereo è stato restaurato per essere esposto al vicino Villaggio Azzurro di Novara dove è stato trasferito via strada sui propri carrelli.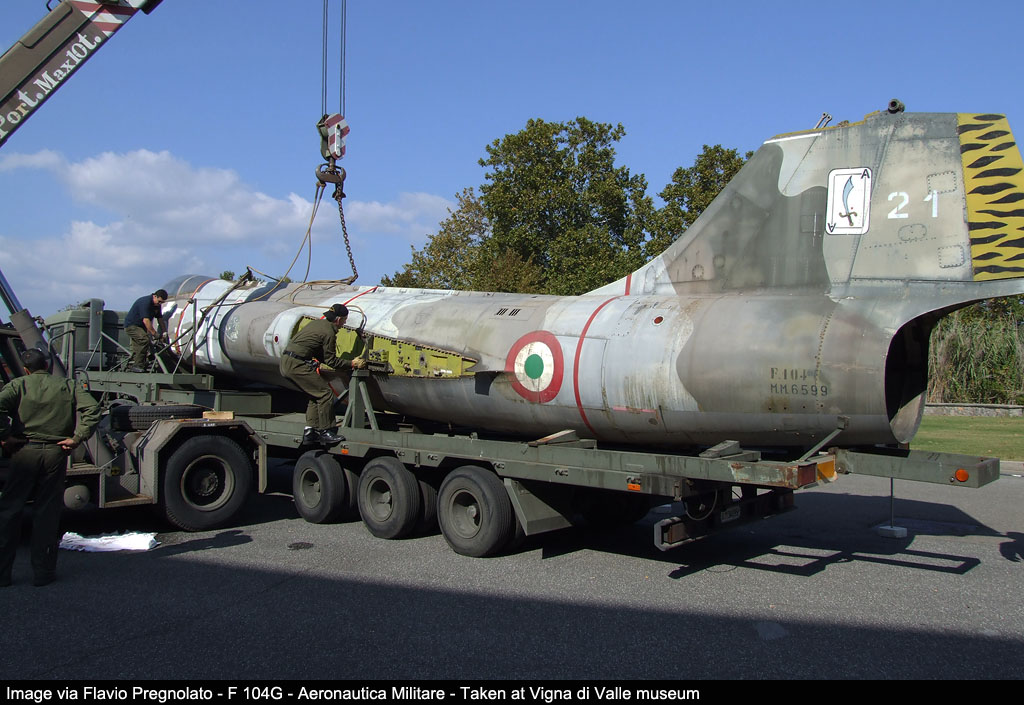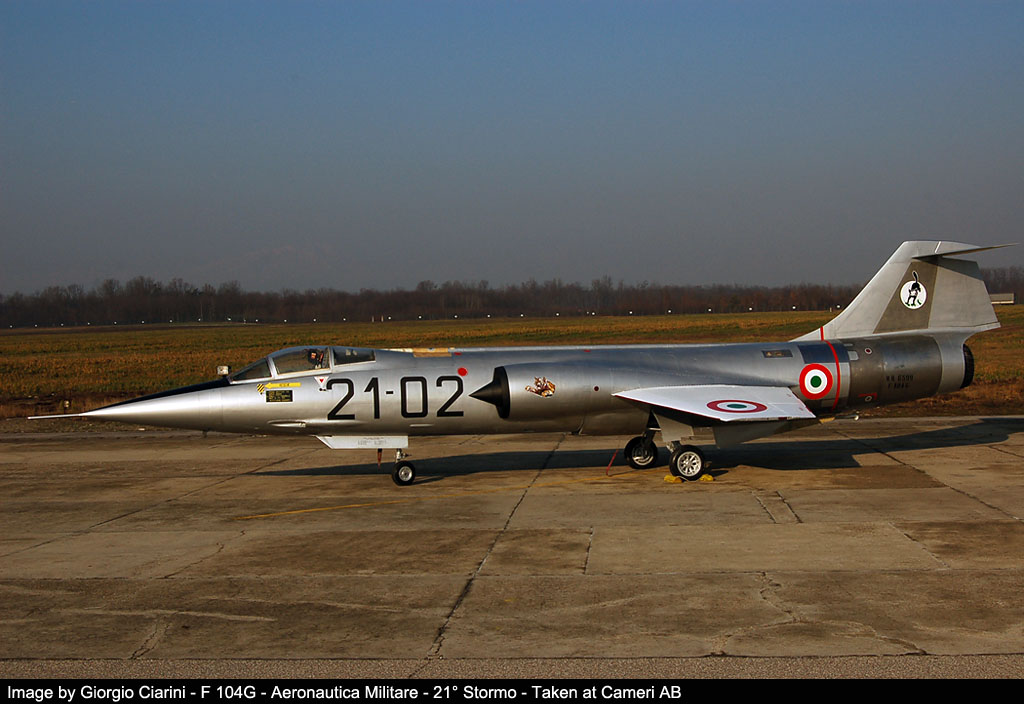 L'autore desidera ringraziare il Col. Fabbri, il Cap. Ciolli, il Luogo Tenente Ricci e il 1° M.llo Pregnolato
Foto di Giorgio Ciarini e Flavio Pregnolato
Testo di Giorgio Ciarini

Pubblicato su JP 4 Marzo 2007
Splendidly restored by a group of Marescialli (Warrant Officers) serving with the Comando Aeroporto and the 1° RMV at Cameri, this F 104G finished its operational life with the 3° Stormo at Villafranca. On retirement, it was transferred to Cameri where it was used to train the rapid battle damage repair teams on the base. Later it was transferred to Vigna di Valle for display at the Museo Storico dell'Aeronautica Militare, but its restoration was never completed. By now in poor condition, it was returned to Cameri where, at the request of the Commander, Colonnello Fabbri, it was restored into the colours worn back in the history of the base, when the first Starfighters arrived to equip the never formed 21° Gruppo Autonomo, aircraft which had already been assigned to the 51° Stormo at Istrana, and which were diverted to Cameri with the 51 code prefix already applied.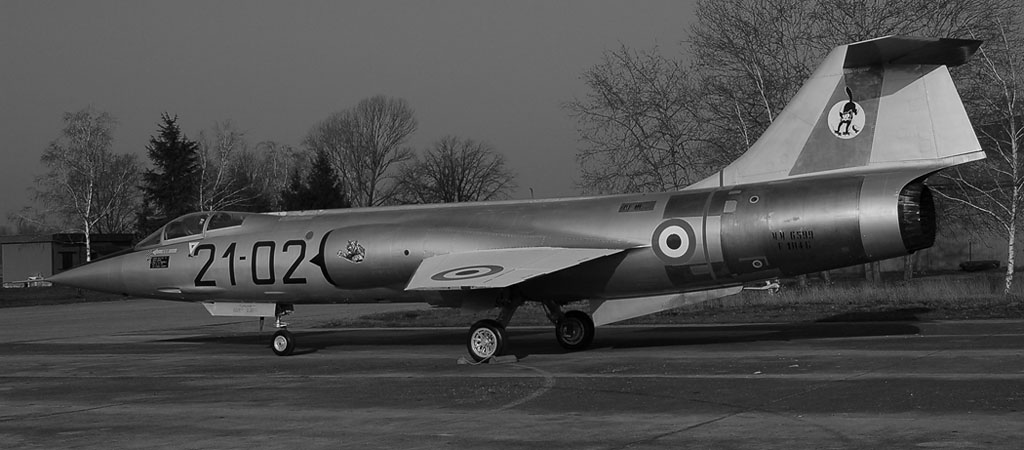 Two particulars which make the restoration stand out are the use of original 1960s stencils for the codes and the emblem, whihc had been jealously guarded in the paint shop of the 1° RMV. Unfortunately the metal finish is a paint covering, and not the original metal of the aircraft as delivered. The option has been chosed to permit the aircraft to be displayed in the open air. The only slight inaccuracy is the presence of the tiger badge, which never featured on this colourscheme, being adopted only when the grey/green camouflage was introduced, but this is a minor sin which can be put down to a passion for the past. The aircraft was restored for display at the AM residential complex near Novara, to which it was towed on its own undercarriage.
Special thanks to Col. Fabbri, Cap. Ciolli, Warrant Officer Ricci and Pregnolato

Images by Giorgio Ciarini and Flavio Pregnolato
Text by Giorgio Ciarini

Published on JP 4 March 2007