La Spring Flag 2006 ha avuto luogo presso l'Aeroporto di Decimomannu (CA), le attività hanno avuto inizio l'8 maggio e si sono protratte fino al 27. Si e' trattato di una esercitazione complessa che si svolge ogni anno in Italia e che vede impegnati equipaggi di volo dell'Aeronautica Militare e di altre nazioni, nonché uomini e mezzi dell'Esercito Italiano e della Marina Militare. Nel 2006, a questo articolato evento, ha preso parte anche l'EAG (European Air Group) che congiuntamente alla Spring Flag ha condotto la propria esercitazione multinazionale denominata "Volcanex 06".
Lo scenario esercitativo così arricchito ha visto la presenza di velivoli francesi, israeliani, tedeschi e di due velivoli AWACS della NATO, non che di personale delle forze armate britanniche, belghe, e olandesi. Presente di un team di osservatori giordani e tunisini.
La "Spring Flag" costituisce un ottimo banco di prova per gli assetti italiani e multinazionali dedicati alle componenti delle NATO Response Forces (NRF) ed, in particolare, per il personale dell'Aeronautica inserito nel "Deployable Combined Air Operation Centre (DCAOC)", ovvero un'unità mobile di comando e controllo delle operazioni aeree schierabile fuori area, anche in contesti multinazionali.
Lo scopo dell'esercitazione è quello di addestrare il personale a condurre attività COMAO (Composite Air Operations - Operazioni aeree complesse) e C-SAR (Combat Search and Rescue - Ricerca e soccorso in zona ostile), nel più ampio contesto di "Peace Support Operation (PSO)", per migliorare il livello di standardizzazione tra le forze destinate ad operare in eventuali future coalizioni. Le operazioni aeree vengono svolte da una base simulata in un teatro operativo fuori dai confini nazionali e vengono coordinate da un centro di comando e controllo remoto, il DCAOC (Deployable Combined Air Operation Centre) a guida italiana, che opera sull'aeroporto di Alghero. La distanza tra il centro il DCAOC e la base di dispiegamento degli assetti (rispettivamente Alghero e Decimomannu), serve quindi a riprodurre, in un contesto quanto più realistico possibile, le condizioni di impiego reale delle forze delle forze per la condotta delle operazioni aeree nel contesto di una missione fuori area.

Gli assetti...
All'esercitazione Spring Flag/Volcanex che è stata gestita dal Comando Operativo delle Forze Aeree (COFA) di Poggio Renatico (FE), hanno partecipato tutte le linee aero tattiche dell'Aeronautica (Typhoon - che ha operato da Grosseto -, F 16, Tornado, AMX, C 130J, MB 339, HH 3F) congiuntamente ai velivoli AV 8B Harrier II della Marina, mentre la NATO parteciperà con due velivolo E 3A AWACS.
Per quanto riguarda le componenti straniere hanno partecipato dei caccia "Mirage" francesi, che hanno operato dalla base di Solenzara, e F 15 israeliani. Per la componente elicotteristica erano presenti UH 1D tedeschi e Puma francesi (da Decimomannu). Il supporto è stato invece garantito da un Falcon DA 20 ECM (inglese) per la guerra elettronica e da un KC 135R per il rifornimento in volo e da un E 3F nel ruolo AWACS (francese).
Inoltre, nell'ambito dell'esercitazione sono state schierate anche le componenti contraeree dell'AM e dell'EI per la difesa di punto (batterie contraeree Hawk e Stinger dell'Esercito e sistemi SPADA dell'Aeronautica), questi sistemi hanno contribuito a conferire allo scenario un elevato grado di realismo mettendo alla prova sia la componente in volo, che la struttura di Comando e Controllo dell'Aeronautica operante da strutture mobili, aerotrasportabili e fisse.

Il trasporto di bio-contaminati...
Parallelamente alle attività principali delle forze aeree e contraeree, sono state condotte missioni di ricerca e soccorso in area ostile (Combat SAR) ed evacuazione medica (MEDEVAC) con l'impiego di militari appartenenti al 16° Stormo Fucilieri dell'Aria dell'Aeronautica, agli Alpini "Ranger" dell'Esercito e al Reggimento "S. Marco" della Marina.
In particolare, è stata organizzata una simulazione di trasporto sanitario con l'utilizzo della nuova barella isolata ATI (Aircraft Transport Isolator) a bordo un velivolo C 130J. Le operazioni di soccorso medico sono state condotte dal neo costituito team di bio-contenimento dell'AM che ha prelevato e messo in sicurezza un diplomatico del Ministero degli Affari Esteri che ha partecipato all'esercitazione. L'Unità di crisi dell'omonimo ministero è stata presente, inoltre, nei giorni 17 e 18 maggio, in qualità di osservatore delle operazioni di evacuazione medica, con la presenza del Capo Unità di Crisi Consigliere Elisabetta Belloni.

Media simulation...
Per la prima volta, inoltre, l'Aeronautica ha attivato una cellula di ufficiali addetti stampa che si è inserita nell'ambito dello scenario operativo della Spring Flag. Lo scopo era quello di migliorare le capacità di comunicazione della Forza Armata con gli organi d'informazione pubblica anche in contesti altamente operativi e particolarmente disagiati.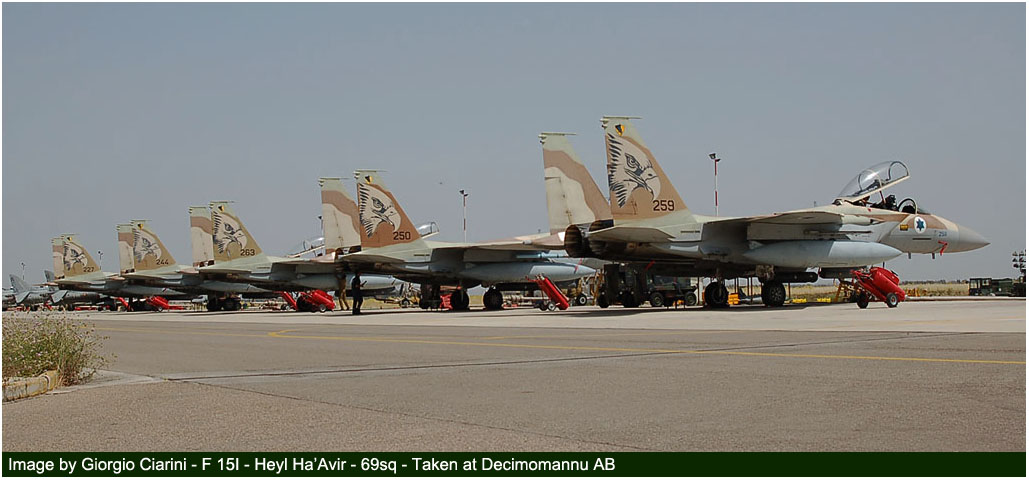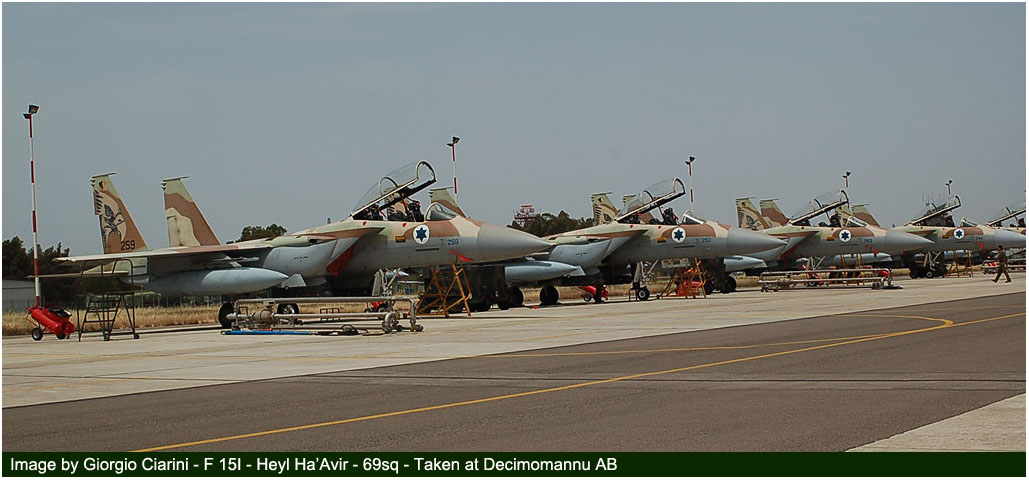 L'autore desidera ringraziare il Ten.Col Bartolini (RSSTA) e il Cap. Conti (Ufficio Pubblica Informazione SMA Roma)
Foto e testo di Giorgio Ciarini
English translation by Dario Cocco
The 2006 Spring Flag took place at Decimomannu airbase in Sardinia; the activities began on May 8th and went on until the 27th. It has been a complex exercise that takes place every year in Italy where teams of Italian Air Force and other nations as well as personnel and equipment of the Italian Army and Navy are involved. In 2006 this multifaceted event was also attended by the E.A.G. (European Air Group) which, together with the Spring Flag, has conducted its own multinational exercise called "Volcanex 06".
The exercise scenario so enriched saw the presence of French, Israeli, German aircraft plus two NATO AWACS airplanes, supported by armed forces personnel from Great Britain, Belgium, and the Netherlands. Also present a team of observers from Jordan and Tunisia.
The "Spring Flag" is an excellent test bed for the Italian and multinational structures as members of NATO Response Forces (NRF) and, in particular, for the Air Force personnel included in the "Deployable Combined Air Operations Centre" (DCAOC) which is a mobile command and control of air operations deployable outside the area, even in multinational contexts.
The purpose of the exercise is to train personnel to carry out COMAO (Composite Air Operations) and C-SAR (Combat Search and Rescue) activities, in the broader context of "Peace Support Operation" (PSO), to improve the level of standardization between the forces intended to operate in any future coalitions. Air operations are carried out from a base in a simulated theater of operations outside the country and are coordinated by a central command and remote control, DCAOC (Deployable Combined Air Operation Centre) guided by Italian personnel, operating on the airport of Alghero. The distance between the DCAOC center and the base of deployment (respectively Alghero and Decimomannu) then serves to reproduce, in an environment as realistic as possible, the conditions of actual use of the forces for the conduct of air operations in the context of a mission outside the box.
The structure ...
Exercise Spring Flag/Volcanex which, was managed by the Air Force Operational Command (COFA) of Poggio Renatico (in the province of Ferrara), was attended by all the Air Force tactical aircraft types (Typhoon, which operated from Grosseto, F 16, Tornado, AMX, C 130J, MB 339, HH 3F) in conjunction with AV 8B Harrier II aircraft of the Navy, while NATO has contributed with two E 3A AWACS aircraft.
As for the foreign components "Mirage" fighters from France had participated, operating from the base of Solenzara, and Israeli F-15s. Helicopters involved comprised UH 1D from Germany and French Puma (from Decimomannu). Support had been provided by a Falcon DA 20 ECM (from UK) for electronic warfare, a KC 135R for refueling and an E 3F AWACS (from France).
Furthermore, as part of the exercise, have been deployed anti-aircraft components from Italian Air Force and Army for point defense (Hawk and Stinger antiaircraft systems of the Army and SPADA systems of the Air Force); these systems have helped to set up a scenario with a high degree of realism testing either the air component and the structure of the Air Command and Control operating from mobile, airborne and fixed structures.
The transport of bio-contaminated ...
Parallel to the main air force and anti-aircraft activities, search and rescue missions in hostile area (Combat SAR) and medical evacuation (Medevac) have been conducted with the use of soldiers belonging to the 16th Wing Air Rifle Air Force, to the Alpini "Ranger" Army and the "S. Marco" Regiment of the Navy.
In particular, a medical transport simulation was organized with the use of the new isolated stretcher ATI (Isolator Transport Aircraft) on board a C 130J aircraft. Relief operations were conducted by the medical team of the newly formed bio-containment unit that checked and secured a diplomat of the Ministry of Foreign Affairs who participated in the exercise. The Crisis Unit of the same ministry was present, in addition, on May 17th and 18th, as an observer of the medical evacuation operations, with the presence of the Head of Crisis Unit, Counselor Elisabetta Belloni.
Media simulation ...
For the first time, also, the Air Force has set-up a cell of press officers who formed part of the operating environment of the Spring Flag. The aim was to improve the communication skills of the Armed Forces with the public media in highly operational and particularly disadvantaged contexts.
Special thanks to Lt.Col. Bartolini (RSSTA) and Capt. Conti (Public Office SMA Roma)
Images and text by Giorgio Ciarini