L'evento
Giovedì 8 marzo presso la base aerea di Cervia-Pisignano (Ravenna), sede del 15° Stormo, si è tenuta la cerimonia ufficiale di consegna del primo elicottero HH 139A (AW 139M) all'Aeronautica Militare. Per l'occasione erano presenti le più alte cariche dello Stato Maggiore AM e della società AgustaWestland. Per AM sono intervenuti: il Capo di Stato Maggiore Generale di Squadra Aerea Giuseppe Bernardis, il Comandante della Squadra Aerea Generale di Squadra Aerea Tiziano Tosi, il Comandante della Divisione Logistica Generale di Squadra Aerea Maurizio Lodovisi, il Direttore Generale delle Attività Aeronautiche del Dipartimento della Protezione Civile Generale di Squadra Aerea Gianfranco Trinca, il Comandante del Comando Forze Mobilità e Supporto Generale Stefano Fort, a far gli onori di casa ovviamente il Comandante del 15° Stormo Colonnello Ludovico Chianese, la delegazione di AgustaWestland e Finmeccanica era guidata dal Direttore Generale Ingegnere Daniele Romiti.
La cerimonia si è svolta nell'hangar principale con tutto il personale dello Stormo schierato, per l'occasione sono stati invitati alcuni rappresentanti della stampa locale e specializzata. Il discorso introduttivo è stato intrapreso dal Generale SA Tosi, dopodichè ha preso la parola l'Ingegnere Romiti per AgustaWestland, la chiusura è spettata al Comandante di Stato Maggiore Generale SA Bernardis; negli interventi è stata messa in risalto la capacità del personale dello Stormo di aver "assimilato" in poco tempo il cambiamento di ruolo, da combattimento con gli F 16 (sino alla chiusura del 5° Stormo Caccia Intercettori) ad uno più soft, ma altrettanto importante come quello del soccorso, un altro plauso è stato rivolto sempre agli uomini di Cervia per l'impegno profuso nel conseguimento delle abilitazioni sul nuovo elicottero. Gli interventi hanno altresì messo in evidenza che la situazione economica attuale non permette acquisizioni considerevoli di velivoli come in passato, ma fortunatamente grazie alle innovazioni tecnologiche in dotazione ai nuovi velivoli, questa minor quantità garantisce comunque un servizio di eccellenza alla forza armata e alla nazione; l'Ingegnere Romiti ha posto invece l'attenzione sull'importanza dell'evento, in quanto questa nuova acquisizione è giunta dopo circa vent'anni dall'ultima consegna di un elicottero ad AM da parte della società lombarda, un altro accento è stato posto sulla partnership in essere per il programma di acquisizione dei nuovi elicotteri da parte della forza armata. Nel proseguo dell'evento il Colonnello Giuseppe Massimetti (Capo Ufficio Programma HH 139 e HH 101) si è reso disponibile per dare delle delucidazioni ai giornalisti presenti sulle qualità del nuovo elicottero, soffermandosi sul fatto che l'HH 139A esprime un salto generazionale rispetto al passato notevole, soprattutto nei sistemi di navigazione (diurna e notturna) e di comunicazione, di capacità di utilizzo anche in condizioni meteo avverse, e di versatilità potendo cambiare l'allestimento interno in circa 30 minuti.
L'elicottero
L'HH 139A è il nuovo modello di elicottero prescelto dall'Aeronautica Militare per la sostituzione di parte della flotta di HH 3F e AB 212AM in servizio presso il 15° Stormo. La prima macchina codificata 15-40 (MM81796), dopo le attività di certificazione e collaudo in ditta condotte e supervisionate dalla Direzione Generale per gli Armamenti Aeronautici (ARMAEREO) è stata formalmente accettata e consegnata all'Aeronautica Militare a fine 2011, nel corso del 2012 è prevista la consegna degli altri nove esemplari, i dieci velivoli andranno ad equipaggiare tutti e quattro i Gruppi dello Stormo più il Centro Addestramento Equipaggi. L'AW 139 è stato scelto ad interim in attesa del nuovo modello AW 149, attualmente in fase di sperimentazione presso le sedi della ditta, il termine previsto per ottenere la certificazione del nuovo bi-turbina è per la fine del 2012, inizio 2013. L'AW 149 è stato progettato tenendo conto delle specifiche emanate da AM per un elicottero medio con capacità SAR, complementare a sua volta alla specifica dell'HH 101 "Caesar", l'HH 101 sostituirà prossimamente gli HH 3F nel ruolo Combat SAR.
L'AW 139M o HH 139A, come da classificazione voluta da AM, dove HH significa Hospital Helicopter, è un elicottero bi-turbina di categoria media prodotto da AgustaWestland (Finmeccanica) negli stabilimenti di Vergiate (Varese). Il 139 dispone di un ampio vano di carico che lo rende unico nella sua categoria, gli equipaggiamenti di bordo sono tecnologicamente i più avanzati sul mercato, sistemi di comunicazione protetti, sistema IFF (Identification Friend or Foe), suite di difesa integrata, capacità NVG (Night Vision Goggles), ovviamente sono presenti anche i classici "strumenti" utilizzati per il soccorso: verricello, faro di ricerca, tranciacavi, battello di salvataggio, gancio baricentrico, altoparlante e infine l'ormai indispensabile FLIR (Forward Looking Infrared). Ora vediamo le caratteristiche tecniche dell'elicottero:
-diametro rotore 13,80 m
-lunghezza 16,66 m
-larghezza massimo (pianetto orizzontale) 4,22 m
-peso massimo al decollo 6.800 kg
-motorizzazione due turbine Pratt & Whitney PT6C-67C Turboshafts con FADEC
-velocità massima 306 km/h
-autonomia massima con serbatoi aggiuntivi 1.060 km (570nm)
L'elicottero può usato in tre differenti configurazioni:
-SAR (Search and Rescue) cinque passeggeri più una barella
-MEDEVAC (MEDical EVACuation) con due o quattro barelle
-UTILITY (Trasporto) fino a 14 passeggeri
L'AW 139 è stato ordinato in oltre 600 esemplari distribuiti in almeno 170 clienti sparsi in 50 paesi diversi, i ruoli variano da EMS/SAR, Offshore, VIP/Corporate, Utility, Law enforcement.
Lo Stormo
Il 15° Stormo è posto alle dipendenze del Comando Forze Mobilità e Supporto con sede a Roma. La missione del Reparto è quella di garantire 24 ore su 24, 365 giorni all'anno, la ricerca e il soccorso su tutto il territorio nazionale e nelle acque territoriali, inoltre svolge attività a favore della popolazione civile in caso di calamità naturali, negli ultimi anni sono state svolte anche missioni umanitarie a livello internazionale.
Di recente lo Stormo ha acquisito una capacità di Soccorso e di supporto di tipo Combat SAR a favore di personale militare in territorio ostile, nonché di supporto alla sicurezza di aree e obbiettivi sensibili in occasione di grandi eventi pubblici. Per ultimo il 15° Stormo concorre ad operazioni di intercettazione di velivoli a basse prestazioni (Slow Movers Interceptor).
Il 15° Stormo si avvale di tre centri SAR decentrati, l'82° Centro C/SAR di Trapani, l'84° Centro C/SAR di Brindisi e dell'85 Centro C/SAR di Pratica di Mare, mentre a Cervia alle dipendenze dello Stormo ci sono l'81° Centro Addestramento Equipaggi, l'83° Gruppo C/SAR e la 605ª Squadriglia Collegamenti.
Dalla sua costituzione il Reparto ha salvato oltre 7.000 vite umane.
L'attuale dotazione di elicotteri in carico al 15° Stormo è basata esclusivamente su due modelli, il Sikorsky HH 3F Pelican e l'Agusta Bell AB 212AM. L'HH 3F è un elicottero biturbina con capacità anfibie concepito espressamente per le operazioni di ricerca e soccorso (SAR - Search and Rescue), l'Aeronautica Militare ha acquistato complessivamente 35 elicotteri con consegne a partire dal 1977, nel corso della lunga ed onorata carriera il Pelican è stato più volte aggiornato, prima con la specifica "Bravo" e per ultima nella versione "Charlie", quest'ultima dispone di equipaggiamenti che gli permettono di effettuare missioni Combat SAR.
L'altro elicottero in dotazione è l'AB 212, anch'esso biturbina è stato acquisito a partire dal 1979 nella versione AM (Aeronautica Militare), il successore del famosissimo Iroquois (UH 1 o AB 205) è stato progettato come elicottero multi task, tra cui quella per la ricerca e soccorso grazie all'installazione di un verricello. La 615ª Squadriglia Collegamenti dispone invece di un Breda Nardi NH 500E concesso in utilizzo dal 72° Stormo di Frosinone, il suo utilizzo è volto esclusivamente al collegamento e trasporto di personale.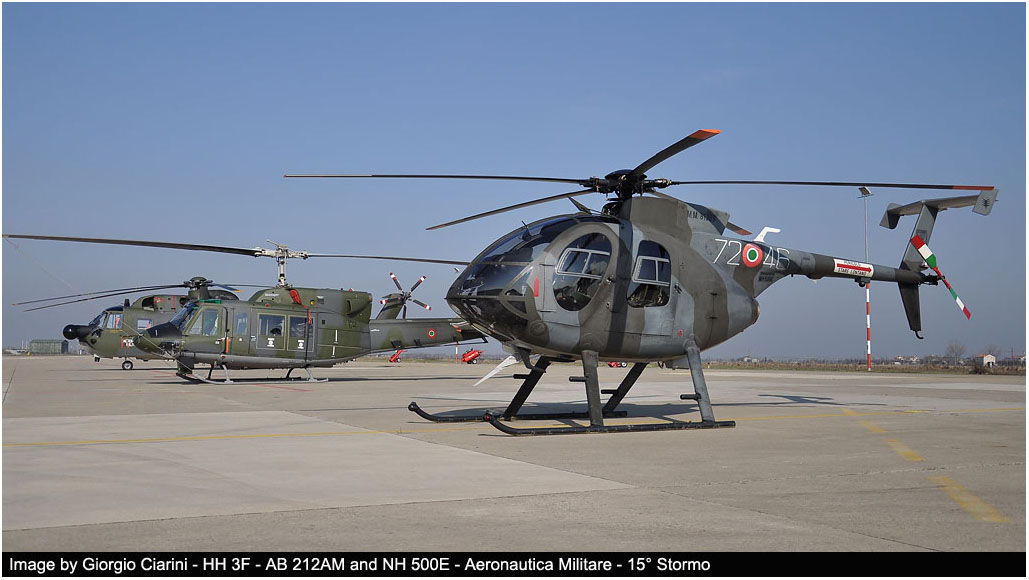 La Storia
Il 15° Stormo è stato costituito il 1° giugno del 1931 sull'aeroporto di Ciampino come Reparto da Bombardamento Diurno. I velivoli in dotazione erano inizialmente i BR.3. Nelle fasi iniziali del Secondo conflitto mondiale il Reparto opera invece con i suoi SM.79 in Africa Settentrionale e nel Mediterraneo.
Nel 1942 dopo un intenso ciclo di operazioni il 15° viene rimpatriato e trasformato in Reparto d'Assalto su CR.42, con numerosi idrovolanti sparsi sul territorio nazionale nel 1946 il Reparto viene denominato "Centrale Soccorso", l'anno successivo la denominazione si trasforma in "Servizio Ricerca e soccorso". Tale Servizio era strutturato su sei Centri di coordinamento, sette Sezioni idrovolanti, tre Sezioni Aeree e sette Sezioni motoscafi. Nel 1951 con l'acquisizione del primo velivolo anfibio Piaggio P 136 il Reparto inizia un periodo di rinnovamento della flotta, contestuale però ad una riduzione numerica di velivoli, nel 1952 viene consegnato il primo G.212, nel 1953 i primi due elicotteri Sikorsky H 19, nel 1958 arriva il primo HU 16A Albatross e infine l'anno successivo i primi elicotteri AB 47J.
Dopo varie ristrutturazioni nel settembre del 1965 il Servizio Ricerca e Soccorso venne rinominato con l'attuale dicitura, 15° Stormo SAR (Search and Rescue), la dotazione di aeromobili ed elicotteri era incentrata su: HU 16A, AB 204B, AB 47J e J3, il Comando dello Stormo inizialmente era a Ciampino dove erano anche dislocati l'84° Gruppo e l'85° Gruppo, mentre a Linate (Milano) era collocato il 1° Distaccamento, mentre a Grottaglie (Taranto) il 3°.
Nel 1973 la Bandiera del Reparto viene insignita della Medaglia d'Argento al Valor Civile per gli interventi del 1966 a favore degli alluvionati della Toscana e del Veneto.
Nei primi mesi del 1973 il Reparto inizia la radiazione degli Albatross, degli AB 204B e degli AB 47J perdendo anche la denominazione di Ricerca e Soccorso. Solo nel 1977 con l'arrivo dei nuovi elicotteri HH 3F vengono ricostituiti i Reparti SAR, l'84° Gruppo a Brindisi, l'83° Gruppo a Rimini, l'82° Gruppo a Trapani, mentre l'85° rimane a Ciampino come Gruppo di Volo in seno allo Stormo. Nel 1979 lo Stormo effettua l'ultimo volo con un velivolo ad ala fissa (HU 16A) rimanendo con soli elicotteri in servizio.
Nel 1981 è stata concessa alla Bandiera di Stormo la Medaglia d'Argento al Valor Aeronautico.
Nel 1984 in seno al 15° Stormo viene ricostituito il 46° Centro Protezione Civile con una dotazione di Canadair CL 215 e G 222 A/I e la 615ª Squadriglia Collegamenti con AB 212AM, A 109A, P 166M e Siai S 208M. Questa fiorente situazione dura solo tre anni perché nel 1987 i Canadair vengono ceduti al Dipartimento della Protezione Civile della Presidenza del Consiglio, i G 222 alla 46ª Brigata Aerea di Pisa, stessa sorte per gli altri velivoli trasferiti ad altri Reparti o addirittura radiati.
Nel 1993 il 15° Stormo fà ritorno in Africa partecipando alla missione "Restore Hope" in Somalia, contestualmente vengono svolte le prime attività Combat SAR (CSAR).
Il 1997 è l'anno che vede il trasferimento dello Stormo da Ciampino a Pratica di Mare, inquadrato alle dipendenze della 9ª Brigata Aerea in "condominio" con il 14° Stormo. Nel 2006 il 15° acquisisce nuovamente la 615ª Squadriglia dalla disciolta 9ª Brigata e viene posto sotto il controllo del Comando delle Forze per la Mobilità ed il Supporto.
Il 15 novembre 2007 la Bandiera di Guerra dello Stormo viene insignita di un'altra Medaglia d'Oro al Valore Aeronautico.
L'ultimo passaggio avviene il 5 ottobre del 2010 con il trasferimento del Comando di Stormo, dell'81° Centro Addestramento Equipaggi (CAE) e della 615ª Squadriglia Collegamenti da Pratica di Mare a Cervia. Per la prima volta dal dopoguerra lo Stormo ha una propria sede ad uso esclusivo.
Gli autori desiderano ringraziare il Col. Chianese, il Cap. D'Elia, il Cap. Petrino, il Cap. Testa e il Cap. Conti
Foto e testo di Giorgio Ciarini e Omar Rigamonti
English translation
The event

Thursday, March 8 at the air base of Cervia-Pisignano (Ravenna), the headquarters of the 15° Stormo (15th Wing), was held the official ceremony of delivery of the first helicopter HH 139A (AW 139M) to the Aeronautica Militare (Italian Air Force). For the occasion, the highest senior officer of the AM General Staff and the AgustaWestland company were present. For AM: the Chief of Staff General SA Giuseppe Bernardis, the Commander of the Squadra Aerea (Air Group) Gen. SA Tiziano Tosi, the Commander of the Divisione Logistica (Logistical Division) Gen. SA Maurizio Lodovisi, the Director General of Aeronautical Activities of the Department of Civil Protection Gen.SA Gianfranco Trinca, the Commander of the Comando Forze Mobilità e Supporto (Command Mobility Forces and Support) Gen. Stefano Fort, to do the honours of course the Commander of the 15° Stormo Colonel Ludovico Chianese, the delegation of AgustaWestland and Finmeccanica was led by the General Director Engineer Daniele Romiti.
The ceremony was held in the main hangar with all the staff of the Stormo deployed, for the occasion were invited representatives of the local press and specialized. The introductory speech was undertaken by General SA Tosi, after which the Engineer Romiti took the floor for AgustaWestland, the closure was up to the Commander of the General Staff SA Bernardis; in the interventions was highlighted the ability of the staff of the Stormo to have "assimilated" in a short time the change of role, from combat with the F 16 (until the closure of the 5° Stormo) a softer, but just as important as that of the rescue, another praise has always been addressed to the men of Cervia for the efforts made in obtaining the ratings on the new helicopter. The interventions have also shown that the current economic situation does not allow significant acquisitions of aircraft as in the past, but fortunately thanks to the technological innovations provided for new aircraft, this smaller quantity guarantees, however, a service of excellence to the armed force and the nation; Engineer Romiti, on the other hand, drew attention to the importance of the event, as this new acquisition came about twenty years after the last delivery of a helicopter to AM by the Lombardia company, Another emphasis was placed on the existing partnership for the programme of acquisition of new helicopters by the armed force. In the continuation of the event Colonel Giuseppe Massimetti (Head of Office Program HH 139 and HH 101) has made available to give explanations to journalists present on the qualities of the new helicopter, stressing that the HH 139A expresses a generational leap from the past, especially in navigation systems (day and night) and communication, the ability to use even in adverse weather conditions, and versatility, being able to change the interior layout in about 30 minutes.
The helicopter

The HH 139A is the new model of helicopter chosen by the Aeronautica Militare for the replacement of part of the fleet of HH 3F and AB 212AM in service at the 15° Stormo. The first machine coded 15-40 (MM81796), after the activities of certification and testing in the company conducted and supervised by the Direzione Generale per gli Armamenti Aeronautici or Directorate General for Aeronautical Armaments (ARMAEREO) was formally accepted and delivered to the Aeronautica Militare at the end of 2011, in the course of the 2012 is previewed the delivery of the other nine exemplars, the ten aircraft will go to equip all and four the Gruppi (Squadron) of the Stormo more the Centro Addestramento Equipaggi (Training Center Crews). The AW 139 has been chosen as an interim pending the new model AW 149, currently being tested at the company's premises, the deadline for obtaining certification of the new bi-turbine is for the end of 2012, beginning of 2013. The AW 149 was designed taking into account the specifications issued by AM for a medium helicopter with SAR capacity, which in turn complements the specification of the HH 101 "Caesar", the HH 101 will soon replace the HH 3F in the role of Combat SAR.
The AW 139M or HH 139A, as per classification wanted by AM, where HH means Hospital Helicopter, is a medium category bi-turbine helicopter produced by AgustaWestland (Finmeccanica) in the factories of Vergiate (Varese). The 139 has a large cargo compartment that makes it unique in its category, the onboard equipment are technologically the most advanced on the market, protected communication systems, IFF system (Identification Friend or Foe), integrated defense suite, NVG capabilities (Night Vision Goggles), of course there are also the classic "tools" used for rescue: winch, searchlight, shears, lifeboat, barycenter hook, speaker and finally the now indispensable FLIR (Forward Looking Infrared). Now let's see the technical characteristics of the helicopter:
-rotor diameter 13,80 m
-length 16,66 m
-maximum width (horizontal plane) 4,22 m
-maximum take-off weight 6,800 kg
-motorisation of two Pratt & Whitney PT6C-67C Turboshafts with FADEC
-maximum speed 306 km/h
-Maximum range with additional tanks 1,060 km (570nm)
The helicopter can be used in three different configurations:
-SAR (Search and Rescue) five passengers plus one stretcher
-MEDEVAC (medical evacuation) with two or four stretchers
-UTILITY (Transport) up to 14 passengers
The AW 139 has been ordered in over 600 examples distributed in at least 170 customers in 50 different countries, the roles varies from EMS/SAR, Offshore, VIP/Corporate, Utility, Law enforcement.
The Stormo

The 15° Stormo is placed under the Comando Forze Mobilità e Supporto headquartered in Rome. The mission of the Unit is to ensure 24 hours a day, 365 days a year, search and rescue throughout the national territory and territorial waters, also performs activities in favor of the civilian population in case of natural disasters, humanitarian missions have also been carried out at international level in recent years.
Recently, the Stormo has acquired a capacity of Rescue and support type Combat SAR in favor of military personnel in hostile territory, as well as security support of sensitive areas and targets at major public events. Finally, the 15° Stormo contributes to the interception of low-performance aircraft (Slow Movers Interceptor).
The 15° Stormo has three decentralised SAR Centres, the 82° C/SAR Centre of Trapani, the 84° C/SAR Centre of Brindisi and the 85° C/SAR Centre of Pratica di Mare, while in Cervia under the Stormo there are the 81° Centro Addestramento Equipaggi, the 83° C/SAR and 605ª Squadriglia Collegamenti (Liaison Flight).
Since its establishment, the Department has saved over 7,000 lives.
The current fleet of helicopters in charge of the 15° Stormo is based exclusively on two models, the Sikorsky HH 3F Pelican and the AgustaBell AB 212AM. The HH 3F is a twin-engine helicopter with amphibious capabilities designed specifically for search and rescue (SAR - Search and Rescue), the Aeronautica Militare has purchased a total of 35 helicopters with deliveries from 1977, over the long and honored career the Pelican has been updated several times, first with the specification "Bravo" and last in the version "Charlie", the latter has equipment that allow him to carry out missions Combat SAR.
The other helicopter equipped is the AB 212, also twin-engine was acquired from 1979 in the AM version (Aeronautica Militare), the successor of the famous Iroquois (UH 1 or AB 205) was designed as a multi task helicopter, including search and rescue thanks to the installation of a winch. The 615ª Squadrilgia Collegamenti has a Breda Nardi NH 500E granted for use by the 72° Stormo of Frosinone. Its use is aimed exclusively at connecting and transporting personnel.
History

On June 1, 1931, on Ciampino Airport, the 15° Stormo was formed as a Reparto da Bombardamento Diurno (Daytime Bombing Unit). The aircraft was initially the BR.3. In the initial stages of the World War 2, the Department operates with its SM.79 in North Africa and the Mediterranean.
In 1942, after an intense cycle of operations, the 15° of the year was repatriated and transformed into an Reparto d'Assalto (Assault Unit) on CR.42, with numerous seaplanes scattered throughout the country in 1946, the Department was called "Centrale Soccorso" (Central Rescue), the following year the name is transformed into "Servizio Ricerca e Soccorso" (Search and Rescue Service). This Service was structured on six Coordination Centres, seven Seaplane Sections, three Air Sections and seven Motorboat Sections. In 1951 with the acquisition of the first amphibious aircraft Piaggio P 136 the Department begins a period of renewal of the fleet, contextual to a numerical reduction of aircraft, in 1952 is delivered the first G.212, in 1953 the first two helicopters Sikorsky H 19, in 1958 the first HU 16A Albatross arrived and the following year the first AB 47J helicopters.
After several renovations in September 1965, the Servizio Ricerca e Soccorso was renamed with the current inscription, 15° Stormo SAR (Search and Rescue), aircraft and helicopters were equipped with: HU 16A, AB 204B, AB 47J and J3, the Command of the Stormo initially was to Ciampino where they were also dislocated the 84° Gruppo and the 85° Gruppo, while to Linate (Milano) was placed the 1° Distaccamento (Detachment), while to Grottaglie (Taranto) the 3°.
In 1973 the Flag of the Department was awarded the Silver Medal for Civil Valor for the interventions of 1966 in favor of the floods in Toscana and Veneto.
In the first months of 1973 the Department began the radiation of Albatross, AB 204B and AB 47J also losing the name of Search and Rescue. Only in 1977 with the arrival of the new HH 3F helicopters are reconstituted the SAR Departments, the 84° Gruppo in Brindisi, the 83° Gruppo in Rimini, the 82° Gruppo in Trapani, while the 85° remains in Ciampino as a Gruppo Volo in the Stormo. In 1979, Stormo made its last flight with a fixed-wing aircraft (HU 16A) remaining with only helicopters in service.
In 1981, the Stormo Flag was awarded the Silver Medal for Aeronautical Valor.
In 1984, within the 15° Stormo was reconstituted the 46° Centro Protezione Civile (Civil Protection Centre), equipped with Canadair CL 215 and G 222 A/I and the 615ª Squadriglia Collegamenti with AB 212AM, A 109A, P 166M and Siai S 208M. This flourishing situation lasts only three years because in 1987 the Canadair were transferred to the Dipartimento della Protezione Civile della Presidenza del Consiglio (Civil Protection Department of the Presidency of the Council), the G 222 to the 46ª Brigata Aerea (Air Brigade) of Pisa, same for other aircraft transferred to other departments or even struck off.
In 1993, on the 15° Stormo returned to Africa, participating in the "Restore Hope" mission in Somalia, while the first Combat SAR (CSAR) activities were carried out.
1997 is the year that sees the transfer of the Stormo from Ciampino to Pratica di Mare, framed under the 9ª Brigata Aerea in "condominium" with the 14° Stormo. In 2006, on the 15° Stormo of July 2006, it again acquired the 615ª Squadriglia from the disbanded 9ª Brigata Aerea and was placed under the control of the Comando delle Forze per la Mobilità ed il Supporto (Mobility and Support Forces Command).
On 15 November 2007, the Stormo War Flag was awarded another Gold Medal for Aeronautical Valor.
The last passage took place on October 5, 2010 with the transfer of the Command of the Stormo, the Centro Addestramento Equipaggi (CAE) and the 615ª Squadriglia Collegamenti from Pratica di Mare to Cervia. For the first time since the post-war period, the Stormo has its own headquarters for exclusive use.
The authors would like to thank the Col. Chianese, the Capt. D'Elia, the Capt. Petrino, the Capt. Testa and the Capt. Conti
Images and text by Giorgio Ciarini and Omar Rigamonti